Athlete with brittle bone disorder dies after half marathon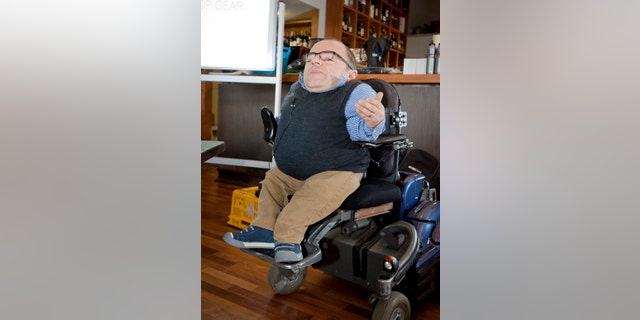 WELLINGTON, New Zealand – Samuel Gibson was born with bones so brittle they would often break, but the diminutive New Zealander inspired many people by pursuing a life filled with outdoor adventures.
Gibson died Monday from injuries he sustained two days earlier when he fell from his wheelchair while participating in a half-marathon, according to officials at the Hawke's Bay Fallen Soldiers' Memorial Hospital. He was 39.
"It's such a tragic loss for the whole country," said Lisa Tamati, a friend and ultra-marathon runner. "Despite his obvious-looking disabilities, he felt like he was the luckiest person around."
Gibson, who was 1 meter (3 feet) tall, was born with osteogenesis imperfecta, a rare genetic disorder in whichbones break easily. In talks and interviews, he described the frequent and painful breaks he suffered throughout his childhood and youth.
Tamati said she first met Gibson two years ago during a talk she was giving, when she noticed him grinning at her throughout her speech.
"I went down and met him and we hit it off straight away," she said. "He said, 'If you ever want a little man in a wheelchair rolling next to you while you're doing a crazy adventure, I'm your man.'"
Indeed, Tamati and Gibson were planning an endurance event for later this year to raise money for a child with the same genetic disorder. She said he had needed to be careful in his training, because if his muscles became too strong, they alone could break his bones.
Tamati said she'd encouraged Gibson to begin telling his story to others, which he'd begun doing in recent weeks, in media interviews and at a TEDx talk in the New Zealand city of Auckland.
"He was really just hitting his stride in life," Tamati said. "He was influencing people and changing lives."
As well as marathons, Gibson had also tried skiing and sailing, completing a solo journey across New Zealand's Cook Strait. With a friend, he'd designed a powered wheelchair better suited for the off-road adventures he enjoyed.
He turned the wheelchair design into a small business and also worked in finance, according to Tamati. She said he drew a lot of strength from his wife, Jen, and their two daughters.
The family issued a statement, thanking the hospital staff.
"Unfortunately the injuries that Samuel sustained were not survivable," the statement said, adding that "Samuel will be greatly missed by so many people, he touched so many lives and was an inspiration to us all."
In a recent interview with Television New Zealand, Gibson was asked why he felt like he was lucky.
"Even as a kid, I understood New Zealand is a pretty special country to be raised in," he replied. "And I'm part of a loving family, and we live in a wonderful day and age where I've got the technology and the means to have a pretty full and rich life."