Antipsychotic drug also relieves nausea from cancer chemotherapy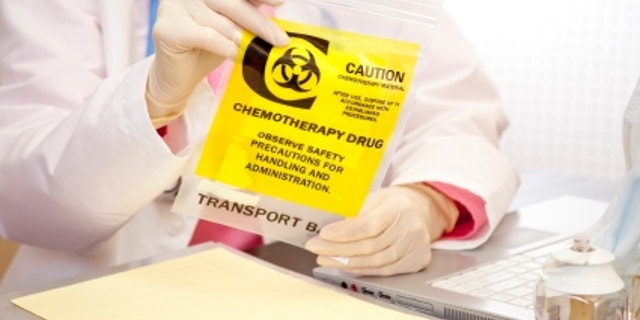 NEWYou can now listen to Fox News articles!
Adding the cheap antipsychotic drug olanzapine to conventional anti-vomiting medicine can help prevent nausea in cancer patients, according to a new test of 380 volunteers.
During the first 24 hours after chemotherapy, 74 percent of patients receiving the drug along with their chemotherapy reported no nausea. That compares to 45 among those getting placebo. The benefits continued for five days as the drug therapy continued.
"I was overjoyed that the results were statistically significant" because it was the first study to look at nausea alone, said chief author Dr. Rudolph Navari of the Indiana University School of Medicine in South Bend.
Existing drugs are good at preventing vomiting but "we really don't have any effective anti-nausea treatment," he told Reuters Health. "That can be a big problem in terms of going to work, taking care of the kids and quality of life."
"It adds to the number of weapons and options that might be considered if other strategies are not effective," said Dr. John Erban, clinical director of the Tufts Medical Center Cancer Center in Boston, who was not involved in the study.
But a key side effect of olanzapine, extreme fatigue in some patients, could pose a problem, he said.
The test was done on people who were receiving cisplatin or a combination of cyclophosphamide and anthracycline for their tumors. Both regimens are known for producing nausea and vomiting.
Breast cancer was the diagnosis in 64 percent of the patients, lung cancer in 13 percent and the rest were being treated for other types of tumors, according to the report published in the New England Journal of Medicine.
By the end of the five-day treatment period, 37 of those taking olanzapine had experienced no nausea at all, compared to 22 percent of placebo recipients.
When the team looked at clinically significant nausea - a score of 3 or more on a 0 to 10 scale - 67 percent of the olanzapine recipients were free of it during the five-day period versus 49 percent among those getting standard therapy.
Olanzapine is available in generic form. The five days of treatment cost about $2.
The patients were only followed for one treatment cycle. Nonetheless, Navari said, it's likely that the drug's anti-nausea effect would persist through subsequent cycles.
When used as an antipsychotic, "it's been given for three, six, nine months and its effectiveness did not wear off," he said.
There were no serious side effects, although the drug did produce severe sedation in 5 percent of recipients around day two. That subsided over time, the researchers write, "suggesting that the patients adapted to the sedative effect."
"There's really no drawback to using the drug because it doesn't cost anything and you only give it a couple of days," Navari said. "We saw evidence of mild sedation in 20 percent, but there really weren't any side effects. Those patients continued on the drug and the sedation resolved by day 3 and 4."
But "the fatigue issue can be a problem," Erban told Reuters Health.
"A lot of patients are trying to balance their work and their home life so they will want to find a formula where they get their treatment and be as functional as possible," he said.
No patients discontinued treatment because of fatigue.
"The principal concern with olanzapine treatment is weight gain and other metabolic consequences. However these usually occur with more extended exposure, which is not applicable to this situation," said Dr. David Greenblatt, a pharmacology researcher at Tufts.
"Since there was no other antipsychotic agent comparatively evaluated in the study, it can't be concluded that olanzapine is unique," he said by email. "Another antipsychotic might well have similar properties."