Albany basketball signs 11-year-old battling rare neurodegenerative disease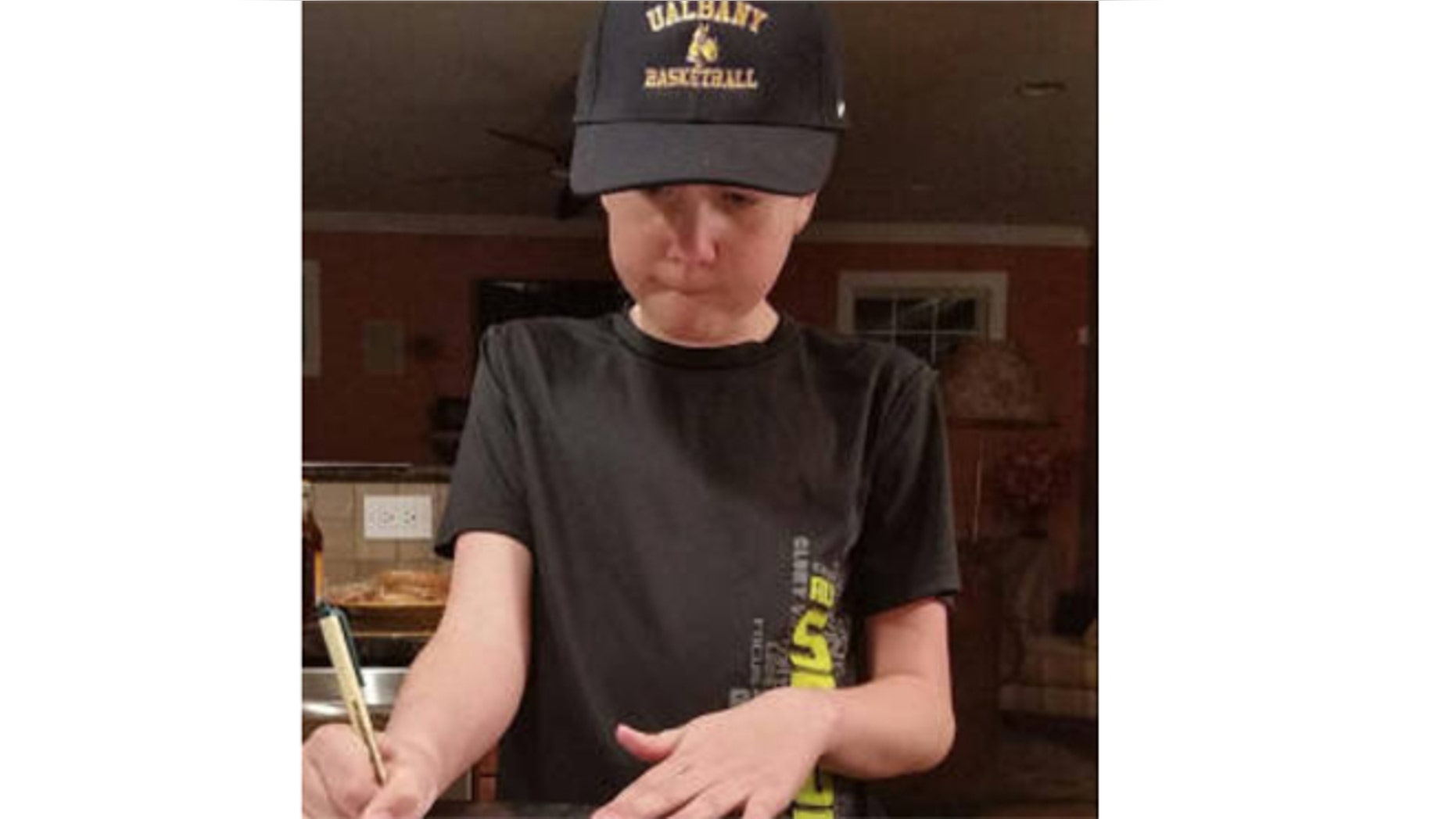 The University at Albany announced three additions to the Great Danes men's basketball roster on the first day of the early signing period, including an 11-year-old ready to add a kind of toughness that the program has never seen before.
JP Honsinger, a 5-foot point guard from Clifton Park, New York, signed his National Letter of Intent becoming the Danes youngest player ever signed. The sixth-grade standout joins the team after being given a devastating diagnosis of Niemann-Pick Type C (NPC), a rare, fatal neurodegenerative disease also referred to as childhood Alzheimer's.
There is no known cure for the condition, which can cause difficulty in moving limbs, enlarged spleen and liver, seizures, loss of muscle tone, as well as walking problems and other losses in motor skills.
"His disease destroys his brain every day. Even though he's in sixth grade, he's on a second-grade reading level. His brain in every way is dying," JP's dad, Jay Honsinger, told FoxNews.com.
"It's not easy to see your child slowly dying every day."
But it's the resiliency in JP that attracted the Danes to the young sportsman and has the team calling him "an inspiration."
"As our point guard of the future we are going to rely on his exceptional leadership qualities. Nobody in the country will be signing a player with JP's toughness," Albany head coach Will Brown said in a news release about the signing.
"We are very fortunate to be able to sign JP during the early signing period as we feel he is a recruiting coup for us. His character and toughness will allow him to make an immediate impact on our program," Brown said.
Those characteristics are what the Honsinger family, which includes in addition to dad Jay, mom Donna and 14-year-old sister Mollie, relies on to make it through the day. "It's not easy to see your child slowly dying every day," Jay said.
"He's just a genuine kid that people love. It's amazing how people gravitate toward him," Jay said. "He's got a wonderful smile and a twinkle in his eye."
Off the court, Honsinger is an avid sports fan, playing basketball, hockey or lacrosse for at least three hours a day with his dad.
"JP would live day in an arena day in and day out if he could," Jay told FoxNews.com. And when the family makes the trek from Albany down to the Bronx, New York for scheduled appointments at Albert Einstein College of Medicine, they are sure to secure tickets to JP's all-time favorite team, the New York Rangers.
"He just likes to play sports, but he's not able to play with kids his own age, the disease is debilitating and the medicines that he's on, the side effects are even adding to that," Jay said.
Hosinger's signing with Albany is significant for the family in many ways, including what it may mean for other patients as they call the media attention a "gift."
"It's a rare disorder, and half the battle is public awareness and the other half is raising money for research to find some kind of treatment," Jay said.
"Nobody's really heard of Niemann-Pick, even for doctors it's really rare. Half the mission is public awareness," he said, adding that it took more than nine months to get JP's diagnosis.
"There's more cases than you realize, but they can't diagnosis it because there's only two clinics that can in the U.S.," Jay said.
There are three main types of Niemann-Pick disease identified as Type A, Type B and Type C. Type A and B are caused by the deficiency of a specific enzyme, acid sphingomyelinase (ASM), which is found in the cell compartment called lysosomes and is required to metabolize a lipid called sphingomyelin, according to the National Niemann-Pick Disease Foundation. When ASM is absent, sphingomyelin cannot be metabolized properly which eventually causes the cell to die.
In Type C -- which is what JP has -- patients cannot metabolize cholesterol and other lipids properly within the cell, according to the foundation. This leads to excessive amounts of cholesterol accumulating within the liver and spleen and excessive amounts of other lipids accumulating in the brain. Type C is always fatal, with the majority of children dying before age 20.
The family has taken part in a few fundraisers, including at Donna's school where a basketball event "Hoops for Help" was held. They have also worked with Starlight, an organization that grants wishes to children battling illnesses.
Hosinger's website, Jammin' for JP, is planning a fundraiser Friday to help offset some costs associated for treatment.