86-year-old man battling cancer knits 300 hats for premature babies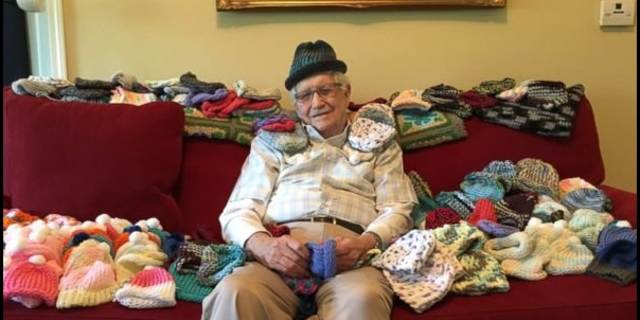 An 86-year-old man battling cancer has managed to knit 300 caps for premature babies, which he says is his way of "paying it forward." Ed Moseley, who lives at Dogwood Forest Assisted Living in Acworth, Georgia, taught himself to knit in August as part of a community challenge, KTVU Fox 2 reported.
Moseley, who kept his own health issues a secret, organized a hat knitting group to provide the caps to Northside Hospital in Atlanta, which cares for about 2,000 premature infants each year. While the group's effort fizzled, Moseley didn't let up and recruited his care manager, family and friends to pitch in, KTVU Fox 2 reported.
On Thursday, Moseley and other residents presented the hospital with the caps to mark World Prematurity Day.
"It's great to receive these wonderful gifts," Linda Kelly, a nurse and clinical manager at Northside Hospital's special care nursery, told the news station. "Many times our families don't expect to be introduced to the special care nursey, so to have a gift left at the bedside, or a nurse put the hat on the little baby's head, makes it all seem less like a hospital."
While Moseley's story has circulated around his community and the hospital, he said it's not about the attention or getting the spotlight. The report stated Mosely is undergoing chemotherapy at Northside Hospital but did not provide information about his cancer diagnosis.
"It's the little things that many people don't think are a big deal that are usually the most special things for these parents who are very anxious and worried about their little babies," Kelly told KTVU Fox 2.