8-year-old saves brother's life with bone marrow transplant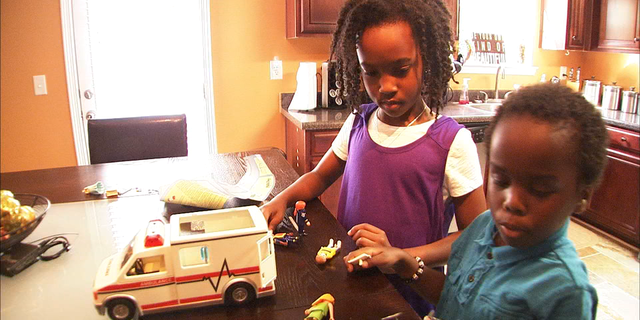 Kyle and Kendall James were already close in age, but the Georgia siblings are now even more tight-knit after Kendall donated blood marrow to Kyle, saving her younger brother's life. Fox 5 Atlanta reported that, thanks to his 8-year-old sister's gift, Kyle recently celebrated his seventh birthday free of sickle cell disease (SCD).
According to the National Institutes of Health, SCD, sometimes called sickle cell, is a group of inherited red blood cell disorders that causes affected individuals to have abnormal hemoglobin, a protein that ferries oxygen throughout the body. The condition can cause either intermittent or chronic pain, and can lead to organ damage and eventual harm to the spleen, brain, eyes, lungs, liver, heart, kidneys, penis, joints, bones, or skin.
With the transplant, Kendall helped wipe out Kyle's defective marrow and replace it with her healthy marrow.
"We call it a journey of hope," their mother, Tanya James, of Conyers, Georgia, told Fox 5 Atlanta.
After tests showed the siblings were a perfect bone marrow donor match, on Sept. 20, 2015, then 6-year-old Kyle checked into Children's Healthcare of Atlanta's AFLAC Cancer and Blood Disorders Center and began chemotherapy to help remove his diseased bone marrow.
James said Kyle fared his struggle with sickle cell well and "always had a spin on everything," like when his hair began to fall out. His positive attitude helped keep the rest of the family calm.
"The first day, I saw the hair on the pillow, I'm all emotional. He's, like, 'Oh, that's just my 5-year-old hair. My 6-year old hair will come in soon,'" she recalled to the news station.
On Sept. 30, then 7-year-old Kendall had bone marrow extracted from two holes in her lower back. Kyle would receive her bone marrow through an IV next. Six weeks later, tests revealed the transplant worked— his sickle cell was cured.
Kyle now has a nickname for his big sister, Fox 5 Atlanta reported.
"My hero," he told the news station, "because she saved my life."