7-year-old fitted with 3-D printed hand to throw first pitch at World Series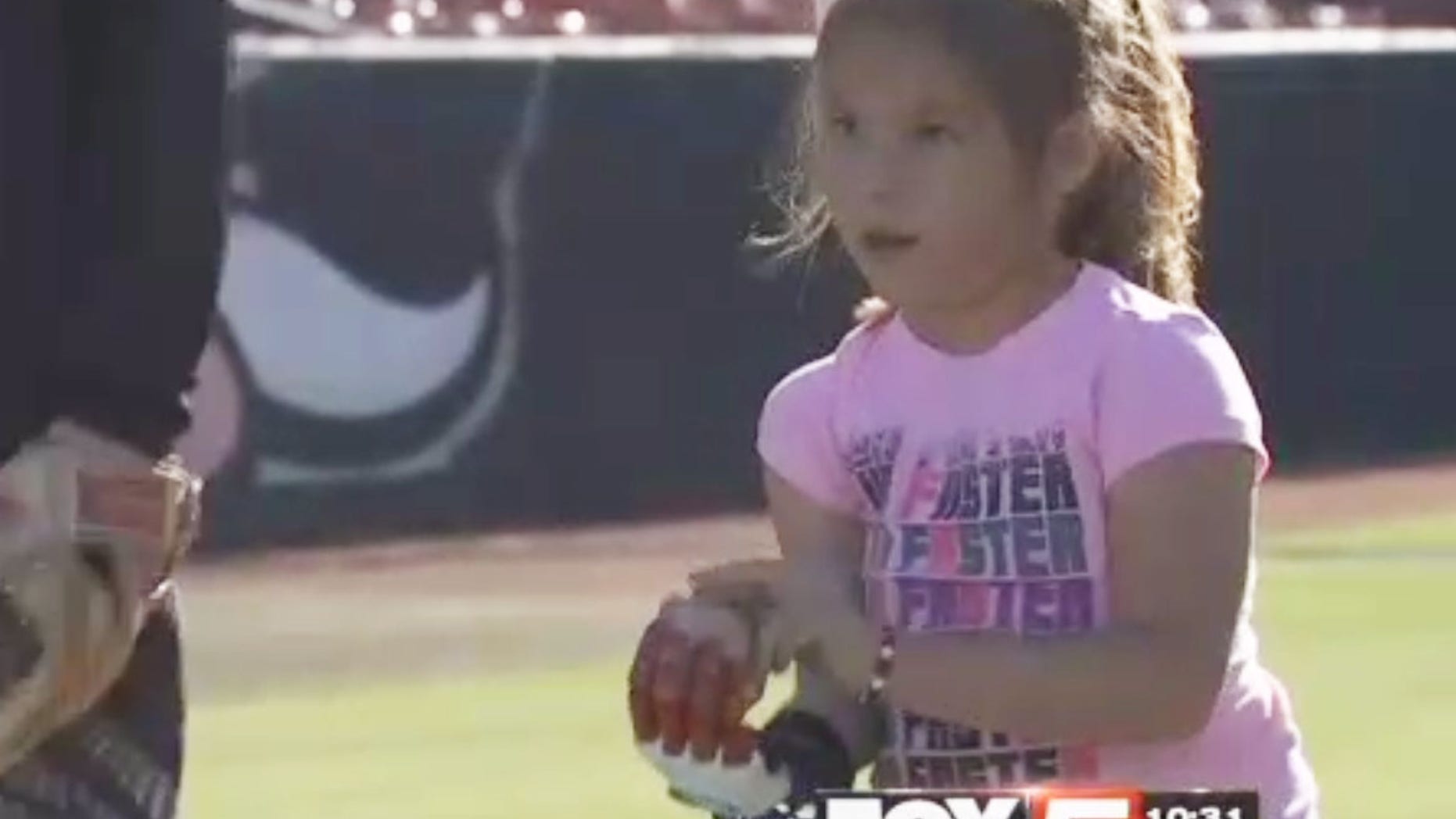 The 7-year-old Las Vegas girl who made headlines for wanting to throw a pitch at every MLB ballpark will take the mound this fall to toss the ceremonial first pitch during Game 4 of the World Series. Hailey Dawson, who was born with Poland syndrome and uses a 3-D printed hand, has always loved baseball, FOX5 Vegas reported.
But the syndrome, which occurs in about one in 20,000 newborns and affected the development of her right pectoral muscle and fingers, prevented her from playing the game.
Hailey's mom, Yong, emailed the University of Nevada Las Vegas College of Engineering to see if they could help. After about six months of testing and fittings, Hailey was given her new hand.
GEORGIA GIRL BATTLING CANCER DIES BEFORE SPENDING DAN WITH SAN FRANCISCO POLICE
"She just put it on and started doing stuff, so that was cool," Yong told FOX5 Vegas.
Hailey, a Baltimore Orioles fan, asked her mom if she could pitch for the UNLV baseball team. Yong sent another email, and Hailey was invited to join the team for a pitch. About a month later, she had another request, but this time for her favorite team, the news outlet reported.
After she met her favorite player, Bryce Harper, Hailey asked him if he could help her get to the Nationals' stadium to throw the first pitch there too. Soon after, all 28 parks sent out an invitation for Hailey to throw the first pitch at their stadium, FOX5 Vegas reported.
"It's been a little crazy," Yong told the news outlet.
DOCTOR GOES INTO LABOR WHILE DELIVERING PATIENT'S BABY
Still, the biggest surprise came when the family got a call from the MLB's vice president.
"Then he said 'We want to invite your whole family to a World Series game,'" Yong told FOX5 Vegas. "Fantastic, dream come true right? And then he goes, 'And we want Hailey to throw out the first pitch,' and I started crying.'"
Yong said the opportunity will be a chance for Hailey to spread awareness for Poland Syndrome, as well as fulfill her ultimate dream.
"She was born this way for a reason," Yong told FOX5 Vegas.