5 years after being stolen, therapy dog is coming home to her owner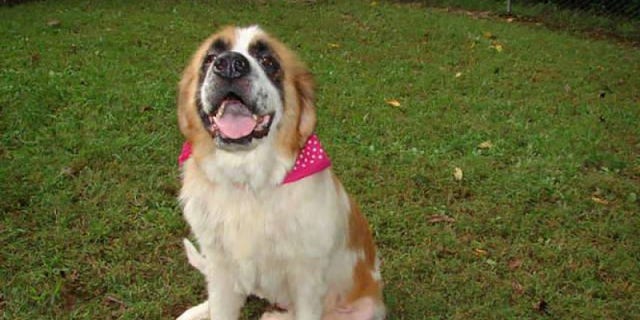 A Colorado woman with special needs will be reunited with her therapy dog after the animal turned up five years later in Missouri — more than 850 miles away, she told The Post.
Kalli Mahaffey, 25, of Pueblo, Colo., said she thought her time with Missy the St. Bernard was over when the animal disappeared from her front yard shortly after she adopted her in 2011.
"She was stolen from me," Mahaffey told The Post on Thursday. "She was in the front yard. I let her out to use the bathroom and then I turned my back and she was gone."
Mahaffey said she searched for Missy, even filed a report at a local animal shelter. Her then-1-year-old daughter, Kaylee, had quickly fallen in love with the dog, and Mahaffey needed the animal herself to help with her developmental disabilities. But the dog never turned up.
Until last week, that is.
The dog was picked up as a stray on Sept. 14 by Jefferson County Animal Control officials in Missouri, some 860 miles away from Mahaffey's yard. Missy was then sent to a local groomer, who discovered an identification chip inside the dog. A friend of the groomer, Brandi Cross, of House Springs, Mo., then managed to track down Mahaffey in Colorado.
Click for more from the New York Post.