5-year-old cancer victim honored with NASCAR-themed funeral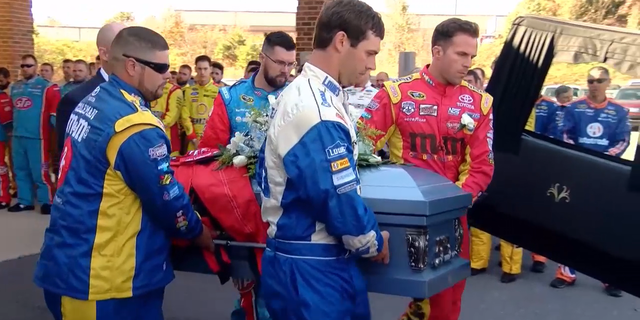 A NASCAR racer and several drivers' crew members paid tribute to a North Carolina boy who died last week after battling leukemia.
Jake Leatherman, 5, had always wanted a NASCAR-themed funeral, and his wish was granted on Nov. 9. NASCAR racer Joey Logano, Matt DiBenedetto, Ryan Ellis J.J. Yeley, and crew members from the teams of Kyle Busch, Aric Almirola, Jimmie Johnson and Dale Earnhardt, Jr. attended the boy's funeral, which took place in Hickory, North Carolina.
Instead of coats and ties, some attendees wore driver firesuits and crewmen uniforms.
Logano's wife, Brittany, learned about Leatherman's story after seeing a Facebook post by a Charlotte TV reporter.
"She had just watched the video, and told me about him and how he was a big race fan," Joey told NASCAR.com, "and I thought it would be cool if we could do something for his funeral."
The couple provided a small race suit with Leatherman's name on it and, because the boy was a fan of Richard Petty, the racing champion's famous No. 43 car number.
"We all came together and were all there for him, but we didn't get to meet him and give him his race suit and how cool he would have thought that was," Joey told NASCAR.com. "To see all his heroes and pit crew members there that day would have been very special."