5 ways to replace grains with vegetables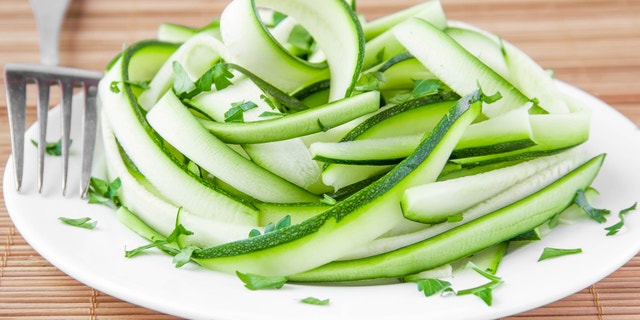 Research shows that restricting carbohydrates is generally a successful way to achieve weight loss. However, with delicious carbs like rice, wraps, pasta and pizza, doing so can be easier said than done. Could it be possible to follow a low carb diet plan without giving up the foods you love most? The answer is yes. You can swap your grains for vegetables, thereby saving on calories and carbohydrates. Try the following substitutions this fall and you are bound to reduce your carb load and calorie intake substantially.
Collard "wraps":
Are you a wrap lover? People often misconceive wraps as being lower in calories and carbs in comparison to bread because they are thin and dainty. While they may be less starchy than a large baguette, most wraps are not whole grain, are high in carbohydrates, low in fiber and additionally filled with unhealthy preservatives like calcium proprionate. Try collard green wraps this winter and save yourself 22 grams of carbohydrates per wrap. Aim to choose the biggest collard green leaves you can find in the market. Collards roll easier in room temperature. First, cut off the stalk, leaving just the leaf part. Run the knife parallel to the leaf cutting off any thicker stalk part that runs through the leaf, this will make the leaf more flexible for rolling.
Cauliflower "rice":
Cauliflower has only 25 calories and 5 grams of carbs per cup. Compare that to a cup of cooked brown rice, which has 200 calories, 46 grams of carbs and only 3 grams of fiber. Cauliflower "rice" is simple to make and delicious. All you need is a food processor and a small skillet and you can complete the entire process in less than ten minutes. Spice it up with sautéed vegetables, legumes and/or lean animal protein to make it a complete dinner. You can also bake it in the oven with low fat cheese and turkey bacon for "twice baked potato" style cauliflower rice, yum!
Zucchini "noodles":
Spiralizing your vegetables is a big trend this season. Everything from beets, butternut squash and zucchini can be spiralized. You can purchase a spiralizer for as little as $20. You can spiralize yellow squash or zucchini, thereby creating "zoodles." While one cup of cooked spaghetti has about 220 calories and 43 grams of carbohydrate, the same serving of zucchini made into "zoodles" (zucchini noodles) has just 20 calories and 4 grams of carbohydrate. Due to the low calorie and carbohydrate content, you can eat 5 servings of zucchini for just 100 calories and 20 grams of carbs. Top zoodles with tomato sauce and ground lean turkey a take on Bolognese. To maintain the crunch of the zucchini, making it similar to al dente spaghetti, just sauté for a few minutes on a skillet with the sauce.
Coconut "pizza crust":
While cauliflower pizza crust is the newest hype, it can sometimes be quite flimsy. A low carb pizza crust can also be made with coconut flour. While it will be slightly more caloric than using cauliflower, coconut flour achieves the perfect texture and flavor. ¼ cup of coconut flour is 120 calories. Simply combine an egg, spices and some Parmesan cheese and you're on your way to a low carb pizza crust. To add bulk and fiber, don't forget to top your pizza crust with non-starchy veggies like tomato, broccoli, and onion.
Eggplant "buns":
What do you get when you sauté thin slices of eggplant with nonstick cooking spray until crispy on the outside and fluffy on the inside? A great low-carb alternative to traditional toasted burger buns. Sliced eggplant can also be roasted in the oven at 425 F for 10 minutes on each side to achieve a similar texture. Either way you prepare it, you're looking at a savings of at least 6g of carbs per bun—plus you're getting fiber. Eggplant has just 5 grams of carbs per cup, half of those being fiber while the average mini slider bun has 16 grams of carbs and just 1 gram of fiber.
Raw parsnip "sushi rice":
Although sushi can seem like a rather light meal, the amount of rice packed into just one sushi roll makes it a starchy meal. While ordering your maki with brown rice adds a smidge of fiber, the carbohydrate count remains the same. For all those sushi lovers who don't want to go the sashimi route, cut carbs from your rolls by using parsnip "sushi rice". By pulsing raw parsnips in a food processor with tahini you can get that sticky rice consistency and create your favorite sushi roll without any of the guilt. While parsnips are starchier than most other vegetables, using it in place of rice can still cut the carbohydrate count considerably and provide a boost of fiber too.