5 tips to find the best gym for you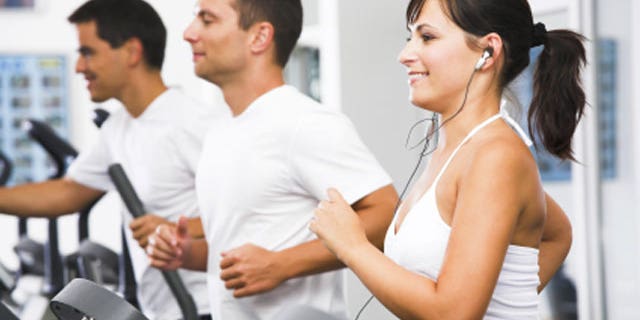 For most people, the first step toward achieving their fitness goals is joining a gym, and hitting it hard on January 1st. Unfortunately, this is often short lived. Research suggests that 60 percent of gym memberships go unused by mid-February. Why? Lack of motivation comes into play, of course, but there may be another reason. For many people, it isn't just about joining a gym, but joining the right gym.
Every gym is different, and yours should be the perfect fit for your specific workout. It shouldn't just be a room full of treadmills, but a place that you actually enjoy spending time. (Well, as much as you can enjoy a place where you are continually huffing and puffing.) Your gym should feel comfortable, inspiring, and nurturing to your overall health. Here are 5 tips for joining the right gym for you.
Health.com: Lose 10 Inches in 10 Days With This Do-Anywhere Workout
1. Determine your needs. Before visiting any gyms, figure out what your needs are to help you stay on budget. Do you plan on taking lots of classes? Do you want a wide variety of cardio machines? Are you looking to work with a personal trainer on their staff? Make a checklist divided into two categories – 'things that are necessities' and 'things that would be nice.' For example: "It must have spin classes. It would be nice if it had hair dryers available in the locker room since I'll be doing to the gym before work." When touring a gym it is easy to get caught up in all the wow factors instead of focusing on what really matters. You find yourself signing up for a $150/month membership all because of heated floors in the locker room and the massage parlor next to the front desk. In reality, are these things worth the extra money you will be paying for them? Probably not. Stick to what's really important to achieving your goals.
2. Proximity. Take a tip from your real estate agent – location is everything. Set yourself up for success by making working out easy and accessible. Sure, that gym across town is a bit cheaper, but will you really make that 20-minute trek when you're stressed and crunched for time? No. Only consider gyms that are close to your home, and preferably in between your home and your workplace. It can be hard enough to motivate yourself to do a yoga DVD at home in your living room. Think how much harder it will be to motivate yourself to drive 20 minutes through traffic to work out. You might as well turn on Netflix now.
Health.com: 25 Surprising Ways to Lose Weight
3. Take it for a spin. When you find a possible gym candidate, test it out before committing to a membership. Most gyms, if not all, will give you a week-long guest pass to try out the facilities (after making you take the obligatory tour, of course). While testing it out, ask yourself the right questions. How do you feel here? Is it clean? Are machines available? Is the staff friendly? How are the class instructors? Do the hours work with your schedule? Do the amenities justify the price? It is also important to try out the whole gym, not just a part of it. Take a class, test the weight machines, use the showers. Go several times. Examine a wide variety of the gym's features, especially the features you foresee yourself using frequently.
4. Ask around. A gym's employees may be able to answer all of your technical questions, but no one will be able to give you the inside scoop better than gym members themselves. While testing out a gym, strike up a conversation with a fellow patron. What has their experience been? Get their opinion on both the good and the bad. Turn to the Internet, as well. After all, where would we be without Yelp?
Health.com: 8 New Exercises to Triple Your Calorie Burn
5. Commitment. Your gym is like any other relationship. It won't work unless you're both on the same page. What level of commitment will you be making? Before signing up for a membership, ask about their refund policy. If you are unhappy, will you be able to get your money back or is it funds down the drain? Also, how long are you locked in for? Do you have to pay for a month up front? Six months? A year? Paying for an entire year can be a great motivator in terms of your commitment to fitness, yes. However, you do not want to spend a year at a gym you don't like because you can't get your money back.