4 people sickened with salmonellosis after eating Costco chicken salad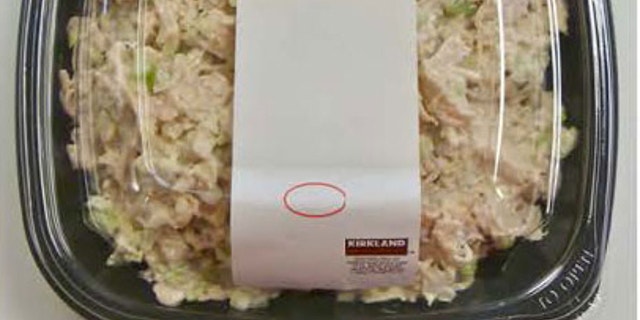 The Department of Agriculture (USDA) is warning against consuming rotisserie chicken salad sold to customers of a Washington Costco after four people became sick with salmonellosis, a foodborne illness that can cause severe diarrhea and results from exposure to salmonella.
The USDA's Food Safety and Inspection Service (FSIS) issued the warning online Monday to customers who purchased the product from the Alderwood Costo in Lynwood between Aug. 26 through Sept. 2, 2016. The affected product was sold in varying weights, according to a news release. As of Tuesday morning, the FDA had not listed an official recall.
Although most individuals recover from salmonellosis without treatment in four to seven days, in some cases, severe diarrhea may require hospitalization. Individuals who are elderly, young or immunosuppressed are the most at risk of serious illness. Other symptoms of salmonellosis include abdominal cramps and fever within 12 to 72 hours of consuming the affected product.
Inspectors said in the release that they were concerned some consumers may have frozen the product. The FSIS advised customers to only consume rotisserie chicken that has been cooked at 165 degrees Fahrenheit and confirmed with a food thermometer that measures internal temperature. Making sure chicken is thoroughly cooked is the only way to ensure it is not contaminated with harmful bacteria.
In November 2015, rotisserie chicken salad sold at Costco sickened 19 people in seven states in an E. coli outbreak.