3 healthy cocktails made with summer's best ingredients
Few things say summer like a cool cocktail. From boozy to smoothie, we've created the ultimate seasonal drinks, packed with fresh fruit—so, yes, they're even healthy.
When summer's heat hits, go easy on the ultra-sugary margs and mojitos. Instead, raid the farmers' market for ripe fruit and fragrant herbs to craft one of these easy, refreshing drinks. Our recipes keep the sugar and calories in check while still packing in plenty of flavor from a rainbow of fresh produce. Freeze chunks of fragrant melon to make a luscious slushy. Crush blackberries into a spicy, gingery bourbon cocktail. Simmer tart rhubarb to make a blush-pink syrup for spritzers. Or go for full-on summer nostalgia with a strawberry-soda ice cream float (amazingly, it clocks in under 250 calories). Share a batch with friends, or with your guy, and your day just got even brighter.
Related: 20 Superfoods For Weight Loss

1. Melon-Lime Slushy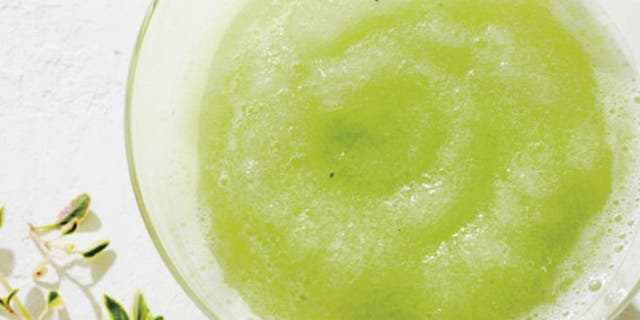 This frosty drink is as refreshing as frozen lemonade but has the added lushness of summer melon. Fresh thyme gives the fruit's sweetness some grown-up dimension.
INGREDIENTS
6 cups diced honeydew, cantaloupe or watermelon
1/4 cup fresh lime juice, plus more to taste
1/2 cup sugar, plus more to taste
1 tsp fresh thyme leaves, plus sprigs for garnish
1/2 cup silver tequila or mezcal (optional)
PREPARATION
Spread melon pieces on a rimmed baking sheet in a single layer. Freeze until just hard, about 1 hour.
Transfer melon pieces to a food processor and add lime juice, sugar, thyme, 1/2 cup water and tequila, if desired. Pulse until smooth and slushy, scraping the sides of the bowl occasionally. Add water if you prefer a thinner consistency. Add lime juice and sugar to taste.
Divide among serving glasses and garnish with thyme sprigs. Serve immediately with spoons, or let melt slightly to serve as a drink.
Related: Celebrity Bodies We Envy

2. Rhubarb Spritzer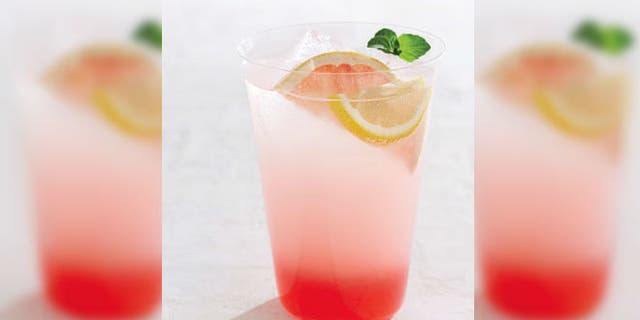 To get the prettiest blush color for this drink, be sure to choose rhubarb without any green streaks, and don't remove the fibrous pink peel.
INGREDIENTS
10 ounces rhubarb (about 3 medium stalks), cut into 1/2-inch slices
3/4 cup sugar
1 tablespoon fresh lemon juice
3 cups seltzer or 1 bottle (750 ml) dry sparkling Cava wine, chilled
Lemon and pink grapefruit slices, halved (optional)
PREPARATION
In a medium saucepan, stir rhubarb, sugar and lemon juice over medium heat until sugar dissolves. Bring to a boil, then reduce heat to medium-low. Simmer, stirring occasionally, until rhubarb breaks down completely, about 6 minutes. Strain through a fine-mesh sieve, pressing solids to extract as much liquid as possible. Discard solids. Cover and refrigerate until cold, at least 2 hours and up to 1 day.
Divide syrup among 8 glasses. Top with seltzer or Cava. Garnish with lemon and grapefruit slices, if desired. Serve immediately.
Related: Look Better Naked

3. Blackberry Summer Smash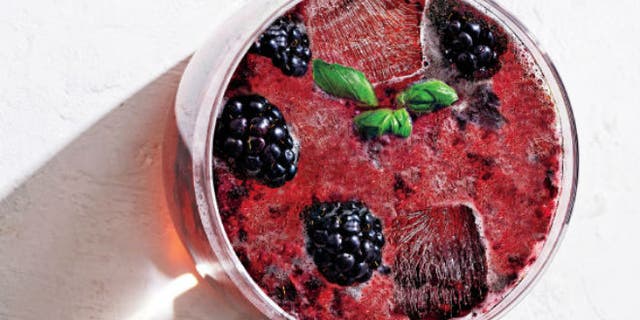 Ginger beer (which contains no alcohol) adds a sweet kick to the tart blackberries. It's readily available in supermarkets.
INGREDIENTS
6 fresh basil leaves, plus a sprig for garnish
11 blackberries, divided
1 tablespoon fresh lemon juice
Ice cubes
1/4 cup ginger beer, chilled
2 tablespoons bourbon (optional)
PREPARATION
In a rocks glass, muddle (aka gently crush) basil and 8 blackberries with lemon juice. Fill glass with large, square ice cubes and top with ginger beer and bourbon, if desired. Garnish with basil sprig and remaining 3 blackberries. Serve immediately.
This article originally appeared on Self.com.