200-mile bike ride aims for $48 million fundraising goal in name of cancer research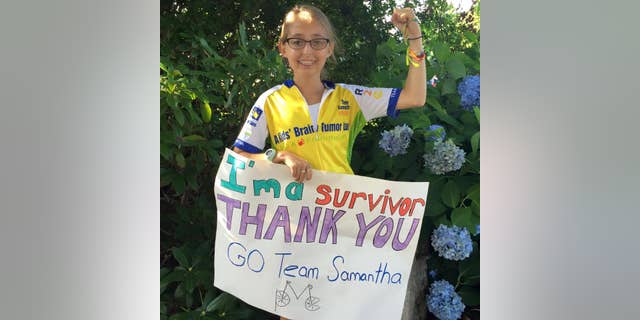 It's a 200-mile ride across the state of Massachusetts, but the cyclists of the Pan-Mass Challenge (PMC) aren't interested in who finishes first or second, and it has nothing to do with keeping time. The goal of the ride, which kicks off on August 5, is to raise money for life-saving cancer research and treatments at Dana-Farber Cancer Institute, and to create a community of hope and resilience.
Kim Shea is a 35-year-old rookie cyclist in this year's event, who is riding in honor of her husband, Brendan.
Brendan Shea was a five-time rider and survived acute lymphoblastic lymphoma as a child, but the intense treatment he received as a kid left him with secondary effects in adulthood, and he died in 2016. He started fundraising for cancer in 1995, and raised over $28,000 through the PMC ride. Shea and the couple's 5-year-old son, Liam, cheered Brendan on at two of his PMC rides and met him at the Family Finish event held on Sunday.
TRAFFIC STOP ENDS IN BIRTH OF BABY GIRL
The night that Brendan died, Shea decided to ride in honor of his memory, but was not emotionally able to train in time for last year's event.
"We started a team this year called 'B-Brave,'" Shea told Fox News, adding that her riding mates include a neighbor who rode in honor of Brendan last year, two cousins and one of Brendan's best friends from childhood.
Shea is hopeful that the money raised by team "B-Brave" will go toward more research into survivors of childhood cancer who may suffer from secondary side effects in adulthood.
"Really for me, it's the fundraising that drives this," she said.
One of the factors that sets the PMC ride apart from other a-thons and charity races or athletic events is that 100 percent of the fundraising total is donated to Dana-Farber, which is a hallmark of founder Billy Starr's mission.
Starr, 66, created the ride 38 years ago in honor of his mother. At the time, the a-thon industry was non-existent, so Starr, who had recently gotten into biking, was handing out brochures in bicycle stores and advertising through public service announcements (PSA).
INFANT'S TRAGIC BABY BLANKET DEATH MOVES MOM TO WARN OTHERS
"I was looking to create something that not only could do some good with the Dana-Farber Cancer Institute, but I was looking to create some culture and community of the values I had learned from my parents and wanted to keep alive both in myself and the community," Starr told Fox News.
The first ride, in 1980, went from Springfield to Provincetown, Mass., which clocks at about 280 miles. The second year the ride moved from Springfield to its permanent starting point in Sturbridge, and has since been broken down into a two-day ride with different loops and paths so that riders of all abilities are able to partake in the weekend festivities. Starr said photos of the 36 riders who turned out for the second PMC feature cutoff jeans and t-shirts, are a vastly different picture from the more than 5,500 riders who have turned out over the past few years.
"In the 80s you were getting athletes," Starr said. "The mission was only fully forming in the 90s, and now when I do orientation, I look at my crowd and they could be 50, 60, 70 years old, they don't look like world class athletes but they're here for the cause."
Part of that crowd is Andrew Janower and his daughters, one of whom is a 12-year pediatric cancer survivor. Janower said he and his family got involved through his daughter Samantha, who was a patient at Dana-Farber.
79-YEAR-OLD COUPLE SECRETLY TRAINS FOR 5K TO SURPRISE FAMILY, WINS AGE GROUP
"From the outside it's hard to understand what the PMC is all about until you start to get involved," Janower, a veteran rider on "Team Samantha," told Fox News. "You come to appreciate how they've created not just an amazing athletic event but a real community of purpose around what they're doing and how they do that. You feel that from the moment you step into the PMC office or sign up to be involved in the PMC event and you really feel it in the PMC weekend."
Last year, Samantha joined Janower on a tandem bike for 85 miles.
"She was diagnosed when she was 3 and it wasn't clear if she was going to make it to 15," he said. "For her to be 15 and healthy and able to be in the tandem with me for 80 miles and do it with a smile on her face, it's a blessing and one of the reasons why that happens is because the PMC raises so much money and that provides finances to Dana-Farber to invest in research."
Janower, whose on the board of trustees at Dana-Farber, said one of the most powerful effects of the PMC weekend is knowing that everyone you come in contact with has a personal connection to cancer and a reason for volunteering or participating.
Starr said this year's fundraising goal is $48 million, which will add to $547 million already donated by PMC to Dana-Farber.
"I used to say it was always a wonderful event that might have been more intimate in its early years, but that intimacy has been replaced by something more powerful and that is palpable when you're bringing so many people together," Starr said. "One million miles are being biked through all these towns – it's palpable what people can achieve when they're brought together."