19-year-old who lost legs in car accident gets help from Boston Marathon bombing survivor's foundation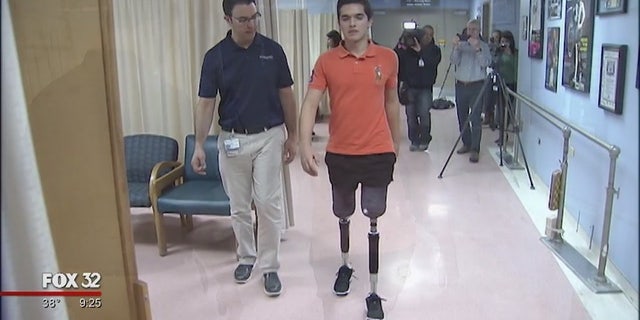 A 19-year-old man who lost both of his legs after a car accident is walking again just seven months later, thanks in part to a foundation set up by a Boston Marathon bombing survivor. Vidal Lopez, who moved to Chicago from Mexico following the accident, connected with the Heather Abbott Foundation through an Internet search, Fox 32 Chicago reported.
The foundation assists people who have lost limbs in a traumatic event through grant funding for prostheses, Fox 32 Chicago reported. Lopez is the foundation's first above-the-knee double-amputee..
"Vidal came to me, unfortunately sitting in a wheelchair," David Rotter, a prosthetist, told Fox 32 Chicago. "He was in legs that weren't really working as well as they could be for him."
With the help of the foundation, Lopez was fitted with microprocessor knees. According to Rotter the knees are fitted with a stumble recovery feature to help him if he falls.
Lopez said the prostheses have helped him regain his independence and that he plans to study bionic engineering in college.
"I think that I'm going to go to the university by myself, to drive the car by myself and not to depend too much on my family," Lopez told Fox 32 Chicago.