Texas fisherman reels in 14-foot hammerhead shark, calls it 'catch of multiple lifetimes'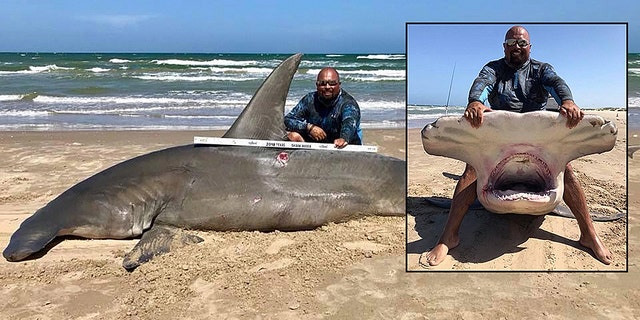 A fisherman in Texas hooked a massive hammerhead shark on Saturday, describing the catch as one he "only dreamed about" and the "shark catch of multiple lifetimes."
Poco Cedillo posted on the South Texas Fishing Association Facebook page that he was on the Padre Island National Seashore when he made the big catch.
TEXAS FISHERMEN PULL 8-FOOT ALLIGATOR GAR FROM RIVER: 'SHE WAS A BEAST'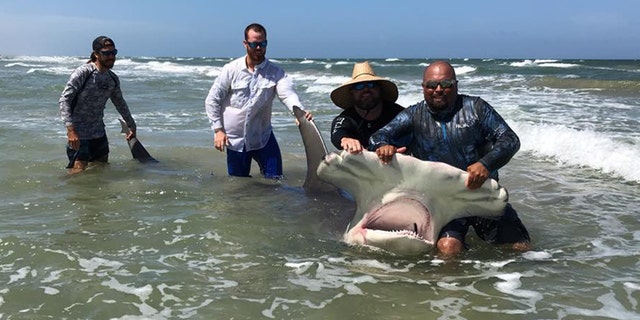 Cedillo said that it took more than an hour to reel in the shark, which was "that big." He then noticed the massive shark was "very tired" and quickly got a length measurement before trying to set it free back into the open waters of the Gulf of Mexico. The shark was 14 feet long, with a fork length of 135 inches and a girth of 78 inches, according to Cedillo.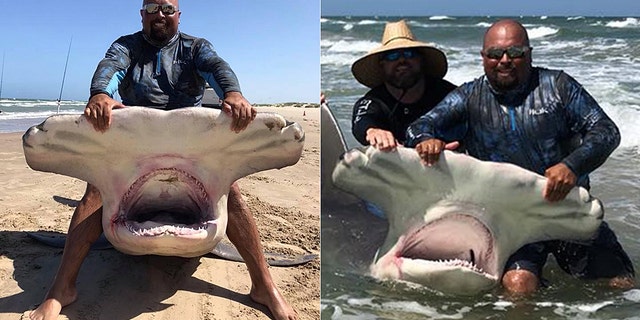 He later realized the shark was in poor health, which "sucked the excitement right out of us for a while."
"Our main focus was to get her released quickly," he wrote. "Well after 30-40 min of us holding her up into the current in 3-4 [feet] of water we were faced with accepting the fact that she was done."
SHARK ATTACKS: WHAT YOU KNOW ABOUT SHARKS IS WRONG
After the group with Cedillo realized the shark could not be saved, they worked to save the shark meat so it could eventually be donated.
"People that know me know that I release every single shark I catch so this hurts," Cedillo said. "Catching this fish of a lifetime and it not making it totally sucks for me but it happens especially since we tried hard."