Outdoor Channel's Steve West kills potential world-record caribou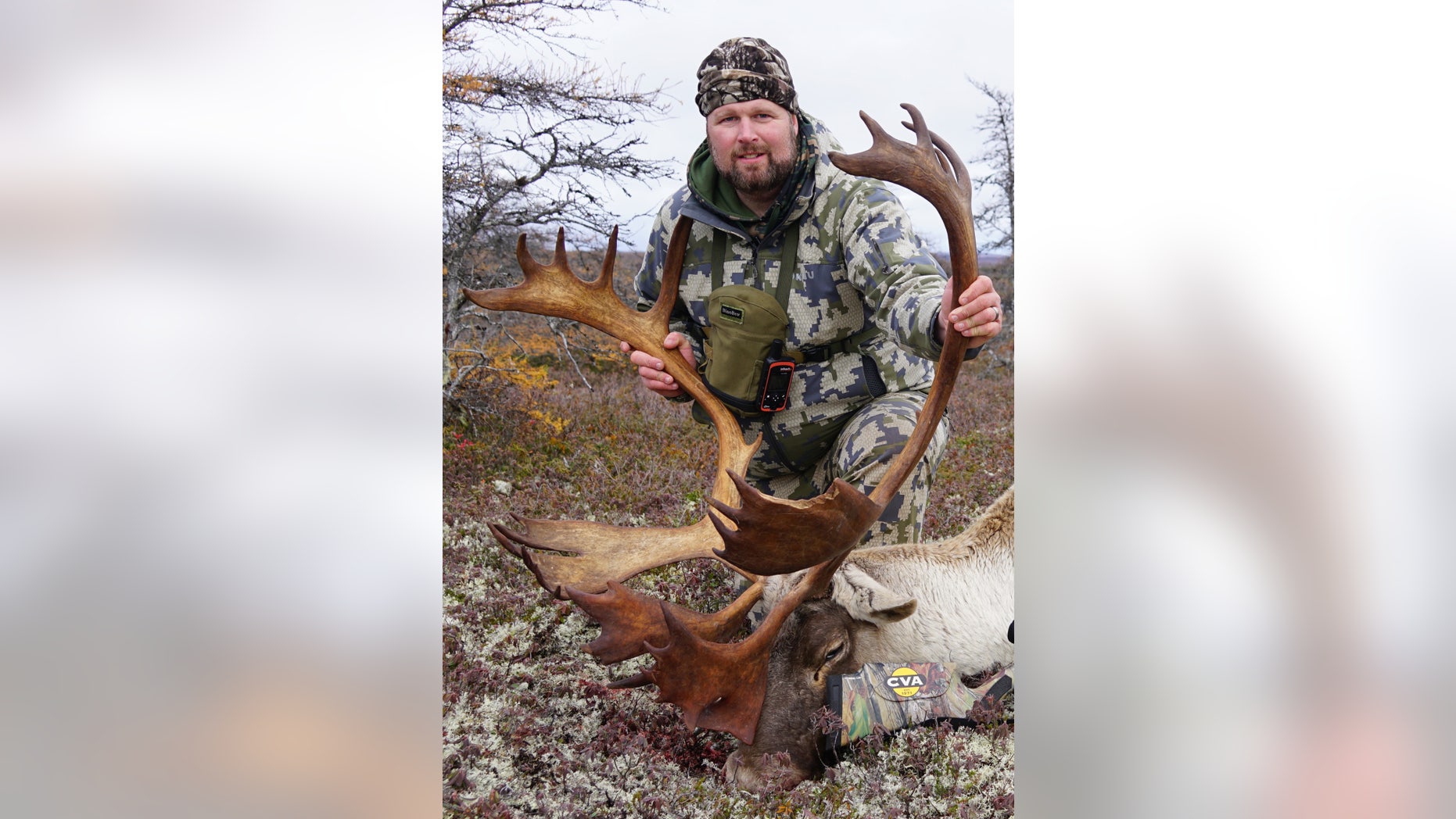 Steve West has finally completed his North American caribou hunt — and with a world-record bull.
Three years ago, West, the host of "The Adventure Series" on Outdoor Channel, challenged himself to kill one bull from each of the five North American caribou species with just his CVA muzzleloader rifle. But even the avid hunter couldn't have predicted how his most recent hunt would end.
In 2013, he snagged the first of his five caribou: the Alaskan-Yukon Barren Ground. Over the next few years, he followed it up with a Central Canadian Barren Ground, a Mountain Caribou and a Quebec-Labrador, leaving only one species in his crosshairs: the Woodland Caribou of Newfoundland.
MINNESOTA 'BUTCHERS' CHARGED IN STATES LARGEST TRAPPING BUST
West's search for a Woodland bull took such an incredible turn that he's dedicating an upcoming episode of "The Adventure Series" to tell the tale.
In October, West flew to Newfoundland, Canada, to meet up with Wayne Holloway, an expert hunter and guide at the Pine Ridge Lodge. Together, they began a days-long journey in search of the perfect bull. The two tracked caribou through the some rutting grounds near Clarenville, in the eastern part of the island, but West wasn't in a rush to snag the first one he saw.
"I was going to enjoy every day I was out there," West told Fox News. "The reality is, I didn't want (the trip) to end."
After days of in the wildreness, the duo finally spotted an ideal specimen perched on top of a hill.
But when West approached and aimed his muzzleloader at the animals vitals, he noticed something was amiss.
"My instincts told me that something was wrong," West recalls on the show.
"(The bull) had a broken leg and puncture wounds on his side, from fighting, and he was thin and very old," he added. "I had two seconds to understand what I was seeing."
Ultimately, West decided to pull the trigger and take the animal down — a move that lined up with his beliefs as a conservationist.
"The conversationist in me overcame any other insticts that I had," West told Fox News. "(The caribou) was done. He was at the end of natural life. In a split second, I said to myself,' I have to take this caribou.'"
"I couldn't let him run off in that condition," West added in a press release.
GREAT WHITE CIRCLES MAUI FISHERMAN FOR OVER AN HOUR
Conservationists in Newfoundland will likely agree. According to wildlife biologist Shane Mahoney, the caribou in Newfoundland have been depleting their own food supply, resulting in starvation and weaker offspring. Thinning the herd and allowing the lichens to regrow is one way to replenish the population.
But West's split-second decision didn't just serve to further the future of the Woodland Caribou; he very likely scored himself a world record in the process.
Upon returning home and receiving the bull's antlers in the mail, it was clear that West had snagged an especially large animal. An official from the Boone & Crockett Club records committee confirmed West's suspicions, and scored the bull at 330 1/8" — a full seven inches larger than the previous record holder.
"I knew he was big when I shot him, but I didn't even think he might be a potential world record," said West.
FOLLOW US ON FACEBOOK FOR MORE FOX LIFESTYLE NEWS
West is currently awaiting his certification of his muzzleloader world record for a woodland caribou. But in the name of fairness, his record is only "pending" until it officially appears in the Longhunter Society's eighth-edition record book.
"For all I know, there could be a bigger one out there that's never been scored … We want to be fair to any of the other hunters out there."
Even still, West seems equally as proud of killing the suffering Woodland bull for the greater good of Newfoundland's population.
"To go kill any other bull … would be irresponsible. That would've been like killing two bulls," West said. "I would've never lived that down in my own mind."
Catch the story of West's incredible hunt in a special episode of "The Adventure Series," airing on March 25 at 7:30 p.m. on Outdoor Channel.