Oregon hunter in critical condition after hanging upside down from tree stand for two days
An Oregon hunter is in critical condition after falling from his tree stand and getting tangled in his harness over 20 feet in the air, hanging upside down for two days.
The man identified as Eddie Voelker, 70, suffered critical injuries and is in a medically induced coma after being airlifted from the area near Umatilla National Forest to a hospital in Richland, Wash., KTVZ reported.
SEE IT: MAINE FISHERMAN CATCHES RARE 'GHOST LOBSTER'
The Union County Sheriff's Office said in a press release Voelker was found by another hunter around 11:15 a.m. Tuesday north of Highway 244, northwest of the Frazier/Four Corners area in eastern Oregon. Upon discovering Voelker, the witness had to drive to the highway in order to get cell service so he could call for help.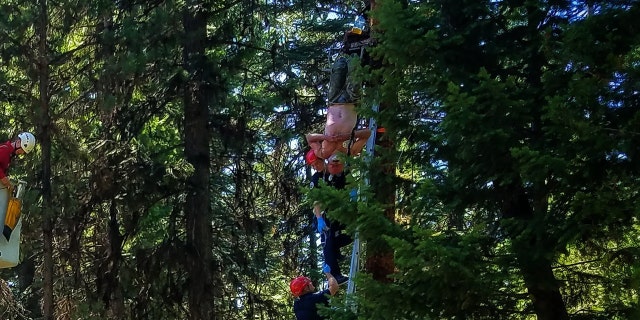 Sheriff's deputies from Union County and nearby Umatilla County, along with U.S. Forest Service and medics from La Grande and Pendleton, were dispatched to locate Voelker.
While crew members were getting him down with a bucket truck, Voelker lost consciousness and his heart stopped beating because blood flow that had been cut off to his lower body was suddenly restored, according to KTVZ.
FISHERMAN FILMS WHALE BREACHING RIGHT NEXT TO BOAT: IT 'SCARED THE CRAP OUT OF ME'
He was then taken by ambulance to a makeshift landing zone where he was then transported to the Life Flight helicopter that took him to Kadlec Regional Medical Center, according to the press release.
A Voelker's family friend, Jeanette Jacoby, told the East Oregonian he was put in a drug-induced coma Wednesday after doctors performed a procedure to relieve pressure on his brain. While Voelker was breathing on his own for a while, he had to be placed back on a ventilator Thursday.
FOLLOW US ON FACEBOOK FOR MORE FOX LIFESTYLE NEWS
Jacoby said Voelker had been alone on the hunting trip, aside from his dogs. His family has since retrieved them along with some of his gear. She also said the family is thankful to the rescuers and everyone who helped Voelker.