Oklahoma fishermen catch 'behemoth' alligator snapping turtle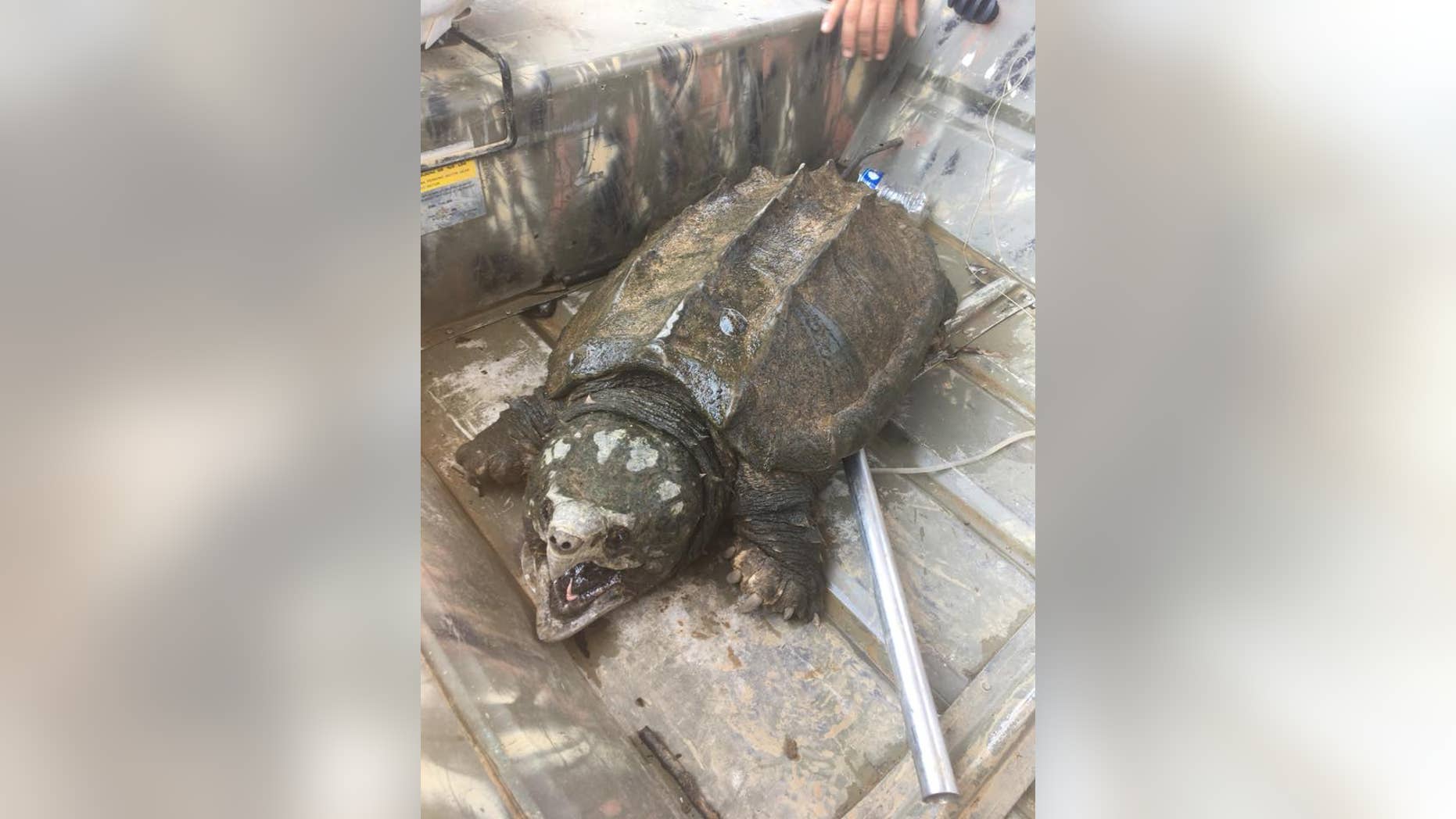 Two fishermen in southeast Oklahoma unexpectedly caught a 4-foot long, roughly 100-pound alligator snapping turtle earlier this month.
Fishing with a trotline on Saturday morning, Jonathan Van Fleet and Anthony Dover came across the turtle which, according to the Oklahoma Game Warden, "found itself in a rather peculiar situation by munching on one of the sunfish used as bait."
Van Fleet and Dover removed the "behemoth" turtle from the tangled trotline before taking the hook out of its mouth.
PICS: FLORIDA FISHERMEN REEL IN MASSIVE 800-POUND MARLIN
Afterward, Van Fleet called local game warden Mark Hannah, who helped the men measure the turtle, which appeared to be healthy, before returning it to Little River.
It is illegal to keep an alligator snapping turtle in the state, according to the Oklahoma Department of Wildlife Conservation (DFW).
"Because of its rarity and low reproductive rate, the Alligator Snapping Turtle is classified as a species of special concern and a year-round closed season prohibits the trapping, possession or killing of these turtles," the Oklahoma DFW explained on its website.
It's unclear exactly how old this particular turtle is, but alligator snapping turtles usually live to the ages of between 80 and 120.
VID SHOWS FISHERMAN DRAGGING SHARK BACK INTO THE OCEAN
The Oklahoma Game Warden posted pictures of the incredible find on Facebook, garnering nearly 2,000 shares as of Thursday afternoon. Though it's an impressive catch — with a shell measuring 24 inches wide — wildlife officials warned the creatures can be rather dangerous if not handled properly.
"It is advised that you use caution when dealing with them. The bite from a turtle this large can easily remove a finger, or even your hand," the Oklahoma Game Warden said.