Indiana hopes to reverse hunting decline with involvement of women, youth
Wildlife preservation officials in Indiana are quite literally hoping to launch 2019 with guns blazing — managers at Hoosier State conservation programs are optimistic that new initiatives encouraging more women and youth to become game hunters will reverse a declining number of hunting licenses issued each year, in turn benefitting the state's conservation movement as a whole.
With the promise of a fresh new year, the Indiana Department of Natural Resources (DNR) is hoping to increase interest by launching new programs to reach groups not typically associated with hunting. The department is pursuing a three-step approach to recruit, retain and reactivate hunters, the Associated Press reports.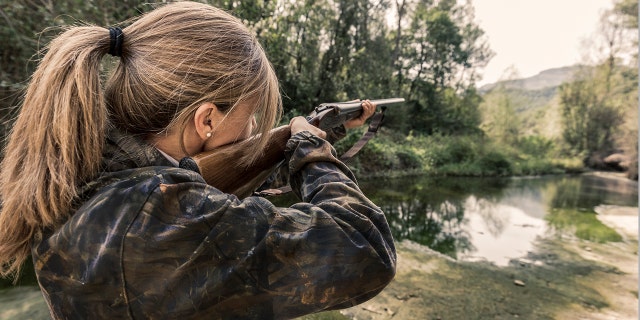 HUNTING AND FISHING: THE CRAZIEST CATCHES AND KILLS OF 2018
The department is also hosting many women-only hunts and events at hunting ranges, and has launched a program to teach students archery in schools.
John Goss, a former director of both the state's DNR and the Indiana Wildlife Federation, described the current state of affairs as "a huge problem.
"Our system and conservation relies on money from licenses and equipment sales — without it, it's a spiraling problem," Goss the Indianapolis Star in a Jan. 2 interview.
"Generations of Hoosiers are not experiencing outdoor activities as much anymore," he continued. "That changes who goes hunting, where and how often."
For context, the state of Indiana sold just 426,300 hunting licenses, tags and permits to both Hoosiers and non-residents alike in 2016, a significant drop from the 552,100-plus sold in 2006, according to the US Fish and Wildlife Service.
FOLLOW US ON FACEBOOK FOR MORE FOX LIFESTYLE NEWS
Nevertheless, the problem is not unique to the Midwestern state, as a mere 5 percent of Americans between ages 15 and 50 hunt, according to the most recent Fish and Wildlife Service survey.
As noted by Outdoor Life, hunting participation was reported as peaking in the U.S. in 1982, when almost 17 million hunters purchased 28.3 million licenses — a figure which has steadily declined ever since. According to the outlet, just 11.5 million people hunted, as per Outdoor Life — less than 4 percent of the national population.
"If you watch the demographic shift of license purchases by age, what you find is that when people hit their late 60s and early 70s, regardless of how much you incentivize them, they stop hunting and fishing," Matt Dunfee, director of special programs at the Wildlife Management Institute said in the story, published last January. "There's nothing we can do. They just get too old."
In response, states like Indiana are looking to increase participation among younger generations, as well as make greater effort to engage women in the beauties of hunting in the great outdoors.
CLICK HERE TO GET THE FOX NEWS APP
Several students in the National Archery in Schools Program (NASP) at Lew Wallace Elementary School said they love the confidence that wielding a bow and arrow gives them.
"Holding and shooting the bow relaxes me," said Francisco Barraza, a sixth-grade student. "And the sound when it hits the target is very satisfying and exciting."
Barraza said he would be interested in going hunting or visiting a range in the future.
The Associated Press contributed to this report.