Hiker captures incredible photos of stags against perfect rainbow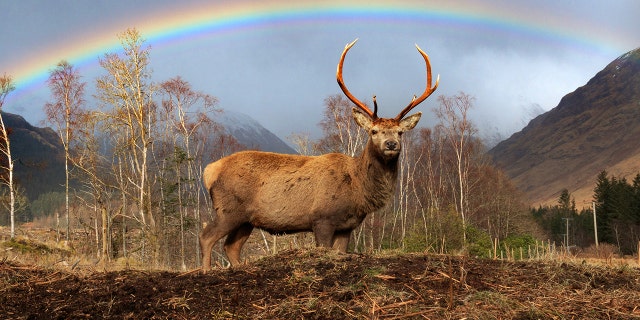 This is the remarkable moment a lucky man managed to capture two majestic stags rutting under a perfect rainbow.
Stephen Davies, 47, took a trip up the mountains with his family when he stumbled across the two stags engaging in a fierce mating battle.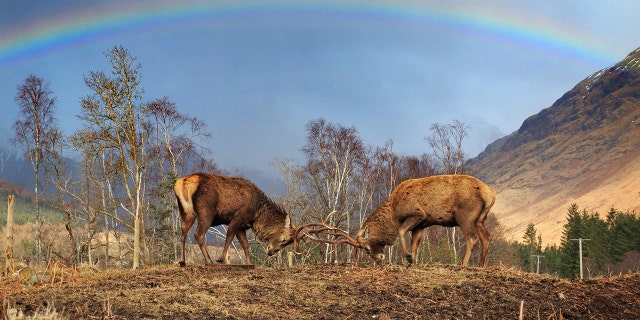 SEE IT: COLORADO FIREMEN RESCUE TRAPPED DEER FROM FROZEN LAKE
The nature-lover had decided to drive up to Glen Etive, in the Scottish Highlands, on Friday afternoon. But he was left stunned when he saw the "perfect" spectacle.
"I was with my partner, stepdaughter and her partner who had come to visit us," said Davies, who hails from Tullibody, Clackmannanshire.
MISSISIPPI WOMAN BAGS DEER JUST AHEAD OF 100TH BIRTHDAY
"We took a drive up and I saw one stag on the mount and realized that there was a rainbow in the background. I then saw another stag coming towards the other one, it must have thought it was eating food or something.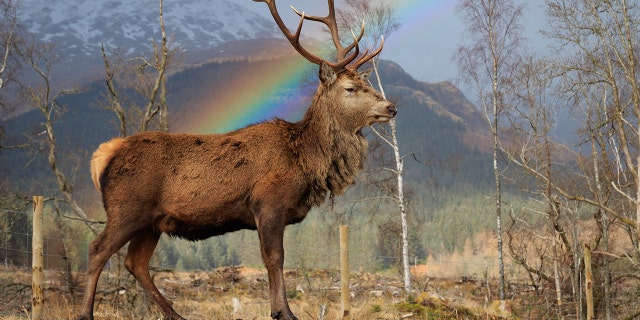 "It was then I thought this was just the perfect opportunity to take a picture. I could not resist."
FOLLOW US ON FACEBOOK FOR MORE FOX LIFESTYLE NEWS
Davies took a snapshot of the stags while his astonished family looked on.
"I took the picture and when you see something like that you know you have an opportunity to capture something special," added Davies, who manages a phone shop when he's not out in the wilderness.
"It was a wow moment. One of those moments you don't expect to see … The family was quite excited to see that."