'Hero' cow escapes slaughterhouse and hides on island for a month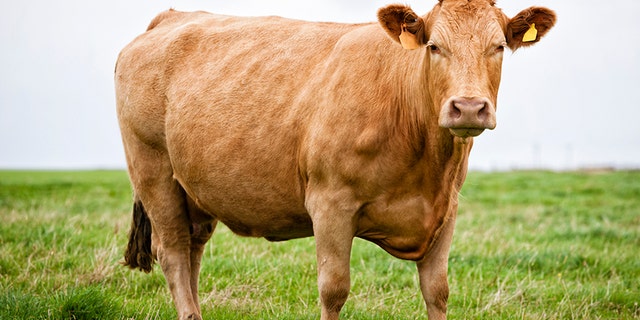 A cow briefly escaped death by ramming a fence and swimming to an island in southern Poland.
The cow was being led toward a truck bound for the slaughterhouse on January 23, BBC reports, when she broke free and ran through a metal fence.
The cow's owner, Mr. Lukasz, advised workers to tranquilize the large farm animal before transport, but they failed to do so and were overpowered by the bovine. One farm worker sustained a broken arm and bruised rib during the cow's escape.
EMOTIONAL SUPPORT DOG ON SOUTHWEST FLIGHT INJURES CHILD
The cow swam out to the nearby Polish islands of Lake Nyskie where she remained for weeks, thwarting capture.
Mr. Lukasz said he tried to capture her from the island, but each time he went to retrieve her, the cow would swim off, BBC reported.
"I saw her diving under water," Mr. Lukasz told Wiadomosci of when he would come to the island.
When firefighters came to rescue her, the cow swam out to a nearby peninsula on the island to escape them, BBC reports.
Mr. Lukasz eventually gave up on returning her to the farm and instead visited the island to leave food for the animal.
The fugitive cow has been called a "hero" by one local politician, Pawel Kukiz, who made it his mission to save her from the slaughter permanently.
"She fled heroically and swam to an island in the middle of the lake where she remains until today," Kukiz wrote on Facebook last Friday.
Some have suggested the cow be shot, but Kukiz and others vehemently opposed the idea. Kukiz wrote in his post that he wished to see the animal "live happily ever after" and die a "natural death."
Though Kukiz admits he is "not a vegetarian," he still wanted to "reward [the cow] for her attitude."
FOLLOW US ON FACEBOOK FOR MORE FOX LIFESTYLE NEWS
Kukiz worked on a plan to find a sanctuary for the runaway cow, deciding to hire a vet to tranquilize the bovine and transport her safely off the island.
Unfortunately, four weeks after her jailbreak, the Limousin beef cow was captured as part of a rescue attempt and died "from stress," according to a report.
The cow was shot with three sedatives before she was supposed to be loaded into a truck and taken to a farm, but died before she got there.