Girl, 4, reels in 'monster' 33-pound fish with mini 'Frozen' fishing pole
She didn't "let it go."
A four-year-old girl from Illinois is a bona fide angler after catching a 33-pound flathead catfish while fishing with a miniature, "Frozen"-themed fishing pole.
Little Josie was fishing with her cousins and parents, Steve and Ashley, in the Delavan area on Aug. 28 when she made the impressive "monster" catch, according to a ViralHog video.
510-POUND MONSTER SHARK REELED IN AFTER 3-HOUR FIGHT: 'LITERALLY MAN VERSUS BEAST'
With some help from her father and a child-sized Disney "Frozen" Shakespeare pole rigged with a 50 lb. line, the fearless girl – who only weighs 30 lbs. herself – was able to pull in the beast.
"Hang on, hold it up like this," Steve can be heard coaching his daughter in video footage viewed over 136,000 times on YouTube.
Josie, ready for the big moment in purple floaties and an oversized hair bow, shrieked with joy as they reeled in the fish during a windy day on the lake.
"Go, Josie, go!" someone cheered in the background.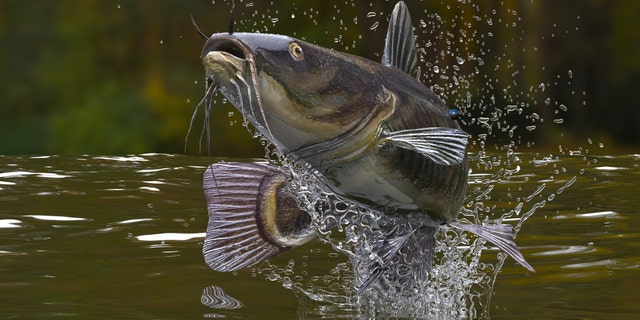 CLICK HERE TO SIGN UP FOR OUR LIFESTYLE NEWSLETTER
With the scoop of a large net, the family pulled the catfish onto the dock, as Josie celebrated the big moment.
"I want to touch him!" the girl yelled, before getting disgusted, and then delighted, by the big fish she described as "slimy." Sizing up her find, she even stretched herself out next to the creature for comparison, and appeared to be pleased to report that she was "taller" than it was.
Congratulated by her family, the youngster was totally in awe of her impressive catch.
CLICK HERE TO GET THE FOX NEWS APP
"I can't believe it," Josie exclaimed.
"Now we can go catch sharks," her dad joked in reply.