Denver Broncos star Von Miller investigated over picture with bloody hammerhead shark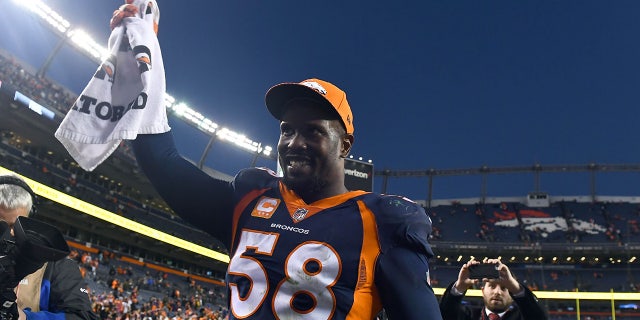 Denver Broncos linebacker Von Miller is being investigated by Florida wildlife officials after he posted a photo of himself on social media holding a large hammerhead shark with blood on it.
The 2015 Super Bowl MVP caught the 9 1/2-foot off the coast of Miami over the weekend and posted a picture and video of it on his Instagram story, TMZ Sports reported Tuesday.
Miller posted the video of the catch, according to TMZ Sports. It's unclear whether the shark was alive or dead at the time of the catch.
Florida Wildlife Commission spokesman Rob Klepper told TMZ Sports that the agency was investigating the catch.
"FWC has received the images and video and is looking into whether or not a violation occurred in this incident," he said.
Carol Lyn Parrish, a spokeswoman for the agency, told CBS Denver that photos are only allowed when the shark is released.
The video of Miller catching and releasing the shark has also drawn the attention of PETA.
PETA spokeswoman Ashley Byrne told CBS Denver there was "no excuse" for what Miller did.
"Catching and injuring and possibly killing a hammerhead shark and then prolonging the animal's suffering and then gloating to take photos is cruel to animals, plain and simple, there is no excuse for that," she said.
Calls and emails to Miller's agent were not immediately returned.
Great hammerhead sharks are prohibited from being caught in state waters, according to the Florida Wildlife Commission's website. Miller could reportedly face a second-degree misdemeanor, a $500 fine and 60 days in jail should he be found guilty of any wrongdoing.