700-pound 'Pig Nose' fish caught for the second time in two years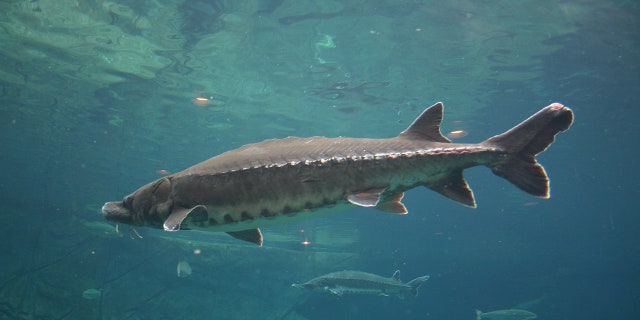 Good news, "Moby Dick" fans: A real-life gargantuan white fish is alive and well, and eluding fisherman everywhere — for the most part.
A massive 700-pound, 10-foot-long, 5-foot-wide sturgeon — affectionately known as "Pig Nose" — has been caught for the second time in two years in the Fraser River, the longest waterway British Columbia, Canada. Better yet, he was caught by the same fisherman.
MOOSE HUNTER SLAMS FACEBOOK CRITICS WHO CALLED HER 'DISGUSTING'
In August 2016, after a two-hour struggle, then 19-year-old River Monster Adventures guide Nick McCabe captured the legendary fish for the first time in decades, reports Global News. A year later, on Sept. 28, the two met again. This time, McCabe knew what he was getting into.
With the help of his Texan clients, the crew wrestled Pig Nose for about an hour before they could catch him.
"I had a gut feeling it was him," the "Sturgeon Whisperer" told CBC. "Just the time of year and how the fish was acting … but as we got it up to the shore I was like, 'This guy looks pretty familiar.'"
STONED CLIMBERS WERE SO HIGH THEY HAD TO BE RESCUED OFF MOUNTAIN
Winning his moniker from his flattened nose, Pig Nose is estimated to be over 80 years old, and likely lost the tip of his nose from a fight or injury, according to Atlas Obscura. Beyondt his characteristic feature, McCabe verified the identity of the fish from a microchip embedded in his body.
"This fish has been the talk of fishing and sporting-goods shops for years," Jeff Grimolfson, McCabe's colleague, told Global News.
According to the New York State Department of Environmental Conservation, sturgeon fish have been around since dinosaurs roamed the earth, and can live to be well over 100 years old. McCabe was glad to find the massive fish in good health – Pig Nose had gained 50 pounds since last summer.
FOLLOW US ON FACEBOOK FOR MORE FOX LIFESTYLE NEWS
Luckily for the giant fish, River Monster Adventures has a catch-and-release policy with sturgeons.