305K salmon escape into waters near Washington islands, unusual solar eclipse tides blamed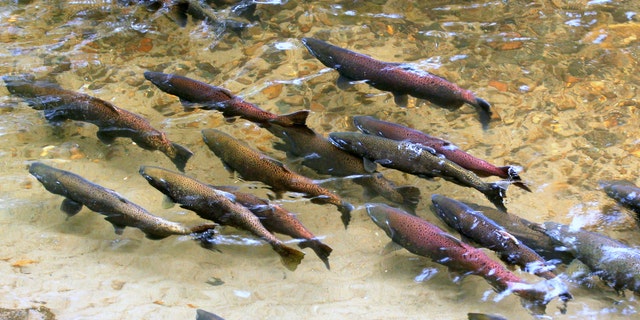 As many as 305,000 Atlantic salmon have been accidentally released into the waters near the San Juan Islands in Washington State, and officials are asking anyone with a valid fishing license to help reel the escapees back in.
The breakout happened Saturday when a net imploded at the Cooke Aquaculture net pen operated off Cypress Island. Thousands of 10-pound salmon fled from the containment out into open water.
SHARK FEASTS ON SEAL IN VIDEO, CAUSES PANIC ON CAPE COD BEACH
In a report from The Seattle Times, tribal fishers are calling the accident "a devastation," and are concerned about the negative impact this could have on native salmon populations. Many fishers in the area have concerns about the Atlantic salmon preying on the native Pacific salmon babies.
A member of the Lummi Natural Resources staff and fish commission, G.I. James, told The Seattle Times, "It is potentially a disease issue, and impact on our fish, as dire a shape as they are in, right now any impact to them is difficult to absorb."
James is concerned about the wild Pacific salmon as they face enough trouble already without the addition of Atlantic salmon invading their home waters.
The Washington Department of Fish and Wildlife is just as concerned for the fish population and is urging people to catch as many of the Atlantic salmon as they can, with no size or number limit.
"Catch as many as you want," Ron Warren, the fish program assistant director of the Washington Department of Fish and Wildlife, has stated. "We don't want anything competing with our natural populations. We have never seen a successful crossbreeding with Atlantic salmon, but we don't want to test the theory."
FOLLOW US ON FACEBOOK FOR MORE FOX LIFESTYLE NEWS
Cooke Aquaculture released a statement this morning blaming "exceptionally high tides and current coinciding with this week's solar eclipse" for the net breaking and the ensuing catastrophic damage.
Cooke continued in the statement, saying "It will not be possible to confirm exact numbers of fish losses until harvesting is completed and an inventory of fish in the pens has been conducted."
It is unknown the exact number of fish that escaped, but Warren said the net was holding about three million pounds of fish when it imploded.
The accident is still under investigation.