Yelp is now publishing health inspection scores on restaurant pages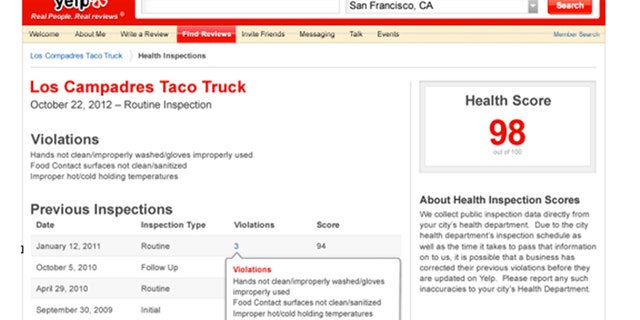 Yelp is now offering users more information when choosing where to eat.
The review app, which many turn to for suggestions on restaurants and services, is adding health inspection scores to restaurant pages to help customers make more informed decisions all across the country.
YELP TO WARN USERS ABOUT RESTAURANTS' BAD HEALTH RATINGS
The new data is part of the brand's Local Inspector Value Entry Specification – or LIVES – program that launched in some cities in 2013.
"Our goal has always been to give consumers as much information as possible about local businesses," the press release said.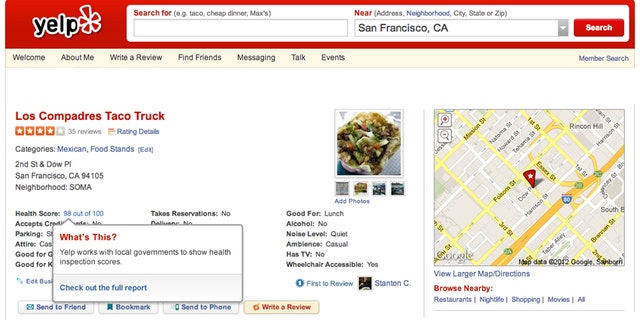 Yelp has partnered with HDScores to assign number values between 1 and 100 to businesses to reflect the alphabetical health score that typically appear in a restaurant's window.
The health inspection score will update on the business's page to reflect the most current information regarding hygiene.
The company is hoping the new information, which is currently available for restaurants in major cities like New York, San Francisco and Chicago, will have a positive impact on consumers – and the restaurant industry.
FOLLOW US ON FACEBOOK FOR MORE FOX LIFESTYLE NEWS
On their blog, Yelp referenced a study of the Los Angeles restaurant industry, suggesting that "when consumers have better exposure to restaurant hygiene scores, the number of hospitalizations due to foodborne illness drops. The LA study also demonstrated that when restaurant scores are posted conspicuously, best practices improve across the industry."