Yankee magazine offers 26 ideas for autumn, A to Z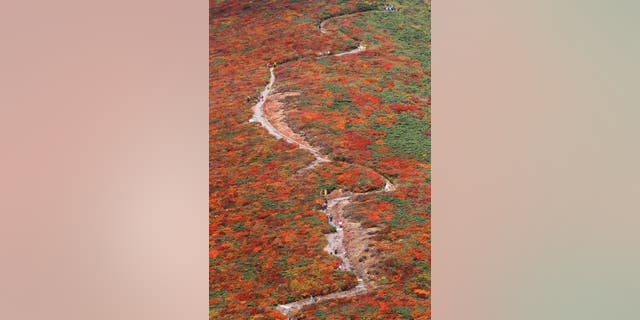 NEW YORK – A is for acer saccharum, also called the sugar maple tree, known for its orange and red fall foliage.
B is for bog, as in cranberry bog, with a cranberry harvest celebration planned for Oct. 6-7 in Wareham, Mass.
And C is for cider doughnuts, a favorite fall treat made with apple cider, available at places like Atkins Farms in Amherst, Mass., B.F. Clyde's Cider Mill in Old Mystic, Conn., and Rocky Ridge Orchard in Bowdoin, Maine.
Notice a theme? The September/October issue of Yankee magazine offers 26 ways to enjoy autumn, A to Z, including a number of ideas for leaf-peeping, destinations and events. Here's a rundown with some details on the most travel-worthy recommendations from the magazine's fall issue, available on newsstands Tuesday. The magazine also offers fall foliage maps, forecasts and trip-planning at YankeeFoliage.com.
The magazine's fall entry for the letter D is dirt roads, of which there are many in rural New England, often a good place for a quiet walk (or bumpy drive) to enjoy scenery of the season. E is for the Big E, the annual agricultural fair in West Springfield, Mass., Sept. 14-30. F is for fungi — as in mushrooms — but don't go hunting on your own; there are too many poisonous varieties. Yankee recommends checking out the website for the Northeastern Mycological Federation website, http://www.nemf.org, for groups that go out with experts.
G is for ghost, and there are plenty of old houses in New England that claim to be haunted, including the Tilton Inn and Onions Pub in Tilton, N.H. H is for "hunter's moon," the autumnal full moon that this year falls on Oct. 29. I is for Indian pudding, the old-timey corn meal, milk and molasses concoction that is best enjoyed on a chilly day and is still sold in a few places around New England, including the Patuxet Cafe at Plimoth Plantation in Plymouth, Mass.; Aunt Carrie's in Narragansett, R.I., and Cole Farms in Gray, Maine.
J is for Jenne Farm, a picturesque and much-photographed 1813 farm in Reading, Vt., surrounded by sugar maple trees that burst into color each fall. K is for the Kancamagus Highway, which Yankee describes as possibly "the most scenic drive in New England," a 34.5-mile stretch of Route 112 between Lincoln and Conway, N.H.
L is for "leaf peepers," and Yankee offers several humorous categories, including the slow poke driver who ignores the need to keep up with the traffic, and the photo buff who takes way too many pictures and puts them all on Facebook. M is for Mohawk Trail, a 65-mile section of Route 2, from Orange, Mass., to Williamstown, that hosted some of the earliest commercial foliage tours. N is for no-see-ums, and fall is the time to celebrate the disappearance of those and other itchy bugs.
O is for orchard, and Yankee has identified a number that showcase heirloom apple varieties, including 18th Century Purity Farms in Plainfield, Conn., Alyson's Orchard in Walpole, N.H., and Scott Farm in Dummerston, Vt. P is for pumpkin festival, including the Damariscotta Pumpkinfest & Regatta in Damariscotta, Maine, which begins Sept. 29-30 with a weigh-off and continues Oct. 4-8 with other festivities. Q is for Quabbin, the reservoir in Massachusetts that offers a wonderful place to hike.
R is for raking up all those leaves, and S is for shutterbug, with tips from Yankee photographers for how to take good fall photos, such as framing your picture with something in the foreground like a porch railing or a tree. T is for Tunbridge World's Fair, an annual event with a big name in a small Vermont town, this year Sept. 13-16. U is for up — as in ballooning, with Worthington Ballooning in Worthington, Mass., among the options for seeing fall colors from above.
V is for vineyard, and New England's growing winery scene includes the Coastal Wine Trail from Truro on Cape Cod to Watch Hill, R.I.; Massachusetts' award-winning Westport Rivers Vineyard & Winery, and an urban winery with Portuguese roots in New Bedford, Mass., called Travessia. W honors the woodpile that awaits a chilly enough day to light a fire.
The magazine copped out on finding a word for X, but is offering an "X marks the spot" contest for photos of readers in their favorite New England foliage spots (details at YankeeMagazine.com/more; deadline Oct. 31). Y is for yard sale, with a shoutout to the Sept. 8 Plymouth Town-Wide Yard Sale in Plymouth, N.H., and Z is for zipline, including a canopy tour in Bretton Woods, N.H., and others in Charlemont, Mass., and Warren, Vt.
Yankee also offers foliage forecasts, maps and drives at YankeeFoliage.com.