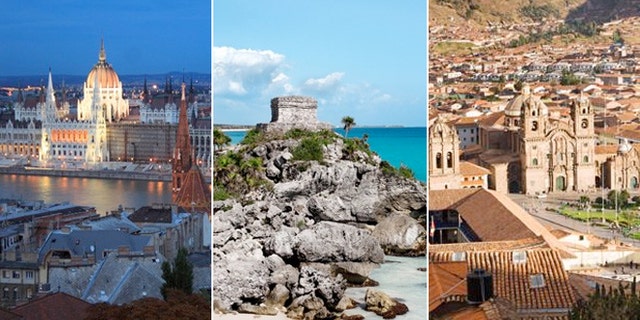 You'll get a lot for your money at one of these relatively inexpensive vacation spots.
Fez, Morocco
Why you should go: Fez is considered the cultural hub of Morocco; it's less commercial and less expensive than Marrakech.
Where to sleep: Traditional houses with gardens called riads are tucked behind doors in the medina, the medieval walled city. Dar El Hana (darelhana.com) has three bedrooms. Dar Seffarine (darseffarine.com) has handmade copper sinks and views of the medina.
Where to eat: Most restaurants offer hearty Moroccan tagines, slow-cooked dishes served over couscous. Sit on the terrace overlooking the medina at La Kasbah or go to Dar Roumana, a hotel run by a chef.
Budapest, Hungary
Why you should go: Budapest is less expensive and less explored than other Western European capitals. It has the beautiful Buda Castle, and the Danube River divides the city, Buda from Pest.

Where to sleep: The Opera House and museums are in Central Pest, but staying in Buda can be cheaper. The Hotel Astra (ohb.hu/astra/index.en.html) is in central Buda, not far from downtown Pest. Vadvirág Panzió (hotelvadviragpanzio.hu) is a steal in nearby Buda Hills, but you'll have to take a bus into town.

Where to eat: Have coffee and a pastry at the popular Ruszwurm. For dinner, try the traditional Tabani Terasz. "It's below scenic Castle Hill and is still largely undiscovered by tourists," says Ben Curtis, a leader for Rick Steves's tour company, Europe Through the Back Door.
Buenos Aires, Argentina
Why you should go: Argentina's economic free fall of 2002 has passed, but deals still abound. And you can't beat all the art, food, and music.
Where to sleep: Try the Art Hotel (arthotel.com.ar), which is in Barrio Norte, on the edge of the grand Recoleta neighborhood, where Eva Perón is buried. At the Five Cool Rooms hotel (fivebuenosaires.com), in the trendy Palermo Soho neighborhood, there are actually 17 rooms, and you can eat breakfast on the rooftop terrace.
Where to eat: You can get an inexpensive but high-quality steak at almost any parrilla. Try Campo Bravo, in the Las Cañitas section of Palermo, but prepare to wait. Since locals don't eat dinner until after 9 p.m., have a snack under the trees at La Biela café, in Recoleta.
Cusco, Peru
Why you should go: You don't hear much about Peru aside from Machu Picchu, but Cusco is a wonderful place to hang out," says Tim Leffel, the author of The World's Cheapest Destinations (amazon.com). Built by the Incas, it has Spanish-colonial buildings, sits high in the Andes Mountains, and welcomes the U.S. dollar.
Where to sleep: Cusco is a stopping point for backpackers (read: plenty of cheap lodging). The Niños Hotel (ninoshotel.com), which uses its profits to feed and care for poor children in Cusco, is within walking distance of the central Plaza de Armas.
Where to eat: Pachapapa, located across from the church of San Blas, is one of many quintas, casual restaurants that line the streets. There you can get the city's specialty, guinea pig. Or go upscale at the Inka Grill.
Koh Lanta, Thailand
Why you should go: Overall, Southeast Asia is relatively inexpensive, as there are fewer developed areas and the dollar has remained strong. "The people in Thailand are so friendly, and there is a better tourist infrastructure than in, say, Vietnam," says Sandy Ferguson, who grew up in Thailand and is a travel agent with Asia Desk, in Duluth, Georgia. Koh Lanta is a beach alternative to Phuket, which is full of tourists.
Where to sleep: Baan Laanta Resort & Spa offers private bungalows with balconies (baanlaanta.com). Relax Bay (011-66-7568-4194) has a Thai-French restaurant and an open-air bar on the beach.
Where to eat: At Time for Lime, you can take cooking classes―or just eat the fresh Thai food. Or splurge at the Seven Seas Wine Bar & Restaurant, at the posh Pimalai Resort & Spa (pimalai.com).
Panama City, Panama
Why you should go: American tourists haven't yet caught on to the country's beaches and exotic wildlife, and historic Panama City is a good jumping-off point.
Where to sleep: Most of the city's hotels are in the financial district, where you can find well-known chains. Or try the Canal House (canalhousepanama.com), a restored 19th-century colonial home with just three charming bedrooms, in the cobblestone-lined Casco Viejo section.
Where to eat: Get ropa vieja at Las Tinajas, where folk dancing serves as dessert. The Hotel DeVille (devillehotel.com.pa) has a modern restaurant with nouveau French food.
Tulum, Mexico
Why you should go: Tulum is about an hour and a half south of Cancún, down the Riviera Maya of Mexico, but a world away from high-rise hotels and wet-T-shirt contests. The beaches are pristine, and there are still plenty of affordable bungalows steps from the water.
Where to sleep: The most authentic type of room in Tulum is a no-frills cabana on or near the beach; you'll appreciate the ocean breezes, as the cabanas are not usually air-conditioned. Hemingway has garden and waterfront cabanas (mexonline.com/hemingway.htm), as does Tierras del Sol (tierrasdelsol.com).
Where to eat: You can probably eat at your hotel; the owners often cook. Or take a cab into downtown Tulum and eat at Carlos'n Charlie's, which offers live music and plenty of tacos.
More from Real Simple
10 Superlative Family Vacation Destination Ideas