World's most expensive kebab will set you back $1,300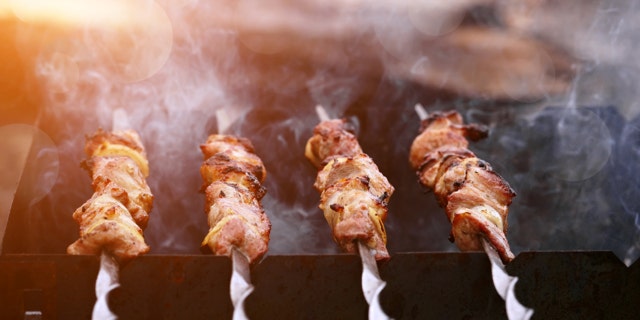 NEWYou can now listen to Fox News articles!
In the U.S., cheap pizza and 24-hour fast food drive-thru windows cater to those looking for a quick bite after a night on the town.
But in many places overseas, it's all about kebab. Originating in the Middle East, kebab is can be any type of skewered meat that's been seasoned and roasted. It's usually served with onions or preserved veggies, sauces, all rolled into a pita or on top of rice.
And while the usual kebab dish won't set you back more than $5, one Turkish chef based in London has created a dish for the millionaires among us.
Last week, Chef Onder Sahan of Canary Wharf restaurant unveiled his Royal Kebab.
"I think we do something nice and expensive. We used high quality meat and vegetables and olive oil and nice 25-year-old vinegar," Sahan explained to Ruptly.
The dish, which was made for the fourth annual British Kebab Awards last month, is made with Japanese Wagyu beef, milk-fed lamb and goat minced into a traditional kofta served on the skewer, fresh morel mushrooms, French Chaumes cheese is also used with courgette flowers, Turkish basil, Jerusalem artichokes and La Vallee des Baux olive oil.
But what truly elevates Sahan's kebab beyond typical street meat is a healthy splash of Terre Bormane vinegar which costs almost $265 for just 3.3 ounces.
The chef says he wants to dispel the idea that kebab is just something that should be eaten after midnight.
"We try to change the kebab image, and then we show people if you have good taste and then you can make it whatever way you like it," he says.
And while he's happy with his elegant kebab plate, he's challenging other chefs to come up with an even more decadent version.
"I'm really very very happy if someone do it and I'm very interested. I'm waiting if someone makes it better than this and I'm happy to pay more than 1,000."