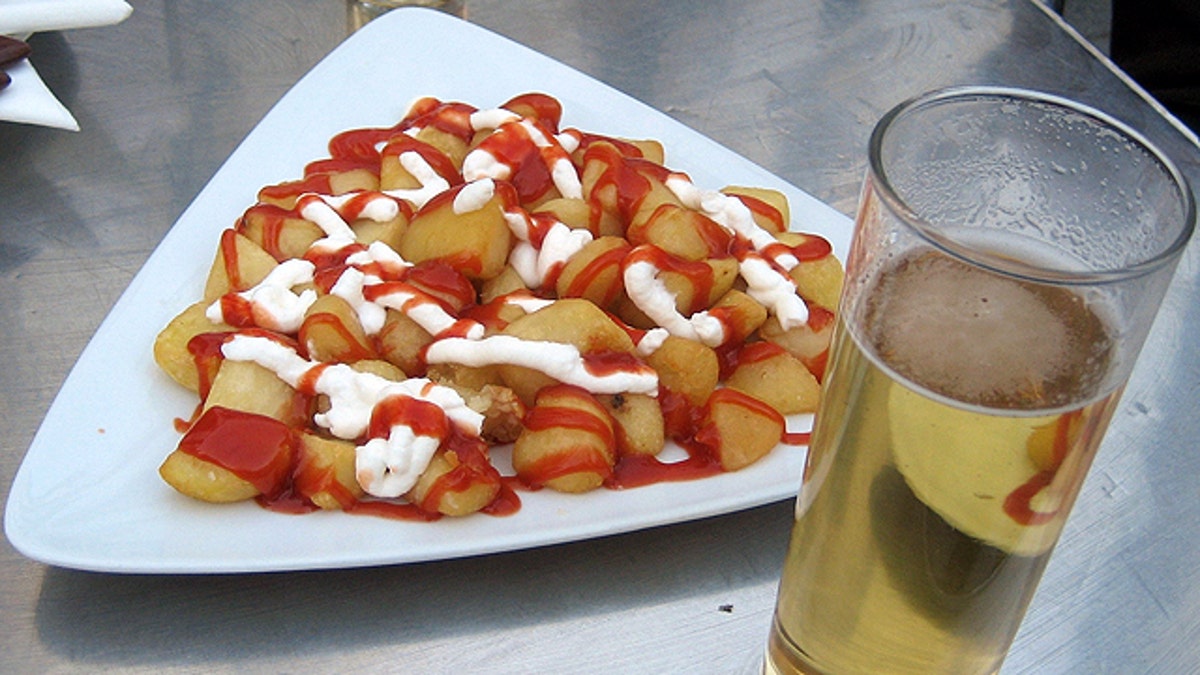 In June and July the world will join together in rapt attention as the biggest sporting event on earth, the FIFA World Cup, takes place. Although not everybody will be able to make it to South Africa to experience the excitement in person, following the action on TV can be great, if you make an event of it. If you're hosting some friends to watch a match or two, make the most of the opportunity and replace the dull chips and dips you normally serve with something a little more exciting. Why not create dishes that will not only impress your guests but also represent the countries that will be taking part?

To make it even more interesting, draw lots for the top seeds beforehand and create a multicourse World Cup potluck, with each guest bringing a corresponding snack from the nation whose name they pull out of the hat. You can hold a parallel World Cup of snacks by voting on which nation's representing snack is the winner.

Here are some classic bar snacks from a few of the top-seeded teams playing in South Africa. Although they may be unfamiliar to you, these snacks are easy to make and might just permanently replace the Chex Mix at your future game nights. All of these are potentially finger foods and go great with ice-cold beer.
World Cup snack: Pao de queijo (cheese breads)
From Brazil (No. 1 seed)

Ingredients
(Makes approx 20 rolls)
1 ½ cups whole milk
1 cup water
1 cup melted butter (or vegetable oil)
4 ½ cups of casava flour (tapioca flour)
5 eggs
2 ½ cups of grated Parmesan cheese
2 cloves garlic (finely minced)
1 tsp salt

Method
Place the milk, water and melted butter in a saucepan and bring to boil.
As soon as it reached the boil, pour over the flour and salt, mixing well until it is a smooth paste.
Mix in the garlic and rest for around 10 minutes.
Mix in the eggs and the cheese, and form the paste into balls (a little bigger than golf balls).
Place the balls on to a greased baking sheet and bake for 15-20 minutes in an oven preheated to 350F/180C.
Serve warm.
World Cup snack: Patatas bravas
From Spain (No. 2 seed)

Ingredients
(Serves 4-6)
4 cups of potatoes (in 1-inch dice)
Olive oil for frying
1 large white onion (finely diced)
2 cloves garlic (minced)
1 12-oz can chopped tomatoes
2 tsps smoked paprika
1 cup water
1 tsp Sherry vinegar
½ tsp coarse salt
½ tsp black pepper

Method
Boil the potatoes in salted water until approximately half cooked.
Drain and allow to cool.
Fry the onions and garlic in a little olive oil until golden; add the paprika.
Add the tomatoes, water and salt and cook gently until the sauce has thickened.
Add the Sherry vinegar and pepper.
When the sauce is nearly ready, fry the potatoes in a shallow frying pan of olive oil until golden brown and slightly crisp. Do this in small batches so you don't reduce the temperature of the oil.
Strain the sauce through a sieve.
Serve the potatoes on a large plate with plenty of sauce ladled over them, and eat with toothpicks.
----------
More from Askmen.com
Cristiano Ronaldo: 6 Reasons Why He's The World Cup's Biggest Star
Top 10: World Cup Secret Weapons
South Africa: 5 Things You Didn't Know
----------
World Cup snack: Arancini (risotto rice balls)
From Italy (No. 4 seed)

Ingredients
(Makes approx. 15 balls)
1 large white onion (finely chopped)
2 cloves garlic (minced)
1 ½ cups Arborio rice
½ cup white wine
3 cups vegetable or chicken stock
½ cup grated Parmesan cheese
1 egg (beaten)
1 cup all-purpose flour
1 cup bread crumbs (for coating)
Vegetable oil for deep-frying

Method
Cook the onion and garlic in a little olive oil until transparent, but not colored.
Add the rice and mix well with the onion and garlic.
Add the stock one cup at a time, adding more when it is absorbed by the rice.
Add the white wine and cook until absorbed by the rice.
Add the Parmesan cheese and allow it to melt.
Allow the risotto to cool.
Place the beaten egg, flour and breadcrumbs in three separate dishes.
Roll golf ball-sized balls from the risotto and roll in the eggs, flour and breadcrumbs until they are fully covered.
Chill for one hour.
Deep fry until golden and serve hot with lemon wedges.

World Cup snack: Choripan with chimichurri
From Argentina (No. 6 seed)

Ingredients
Argentinean chorizo (or, if not available, use hot Italian sausage)
Crusty rolls (lightly toasted on the inside)

Chimichurri
1/2 cup olive oil
1/4 cup red wine vinegar
1/4 cup water
½ cup flat-leaf parsley (finely chopped)
1 small onion (finely chopped)
3 cloves garlic (minced)
1 tomato (peeled, seeded and chopped)
1 tbsp dried oregano
1 tbsp hot smoked paprika
1 tbsp coarse salt
1 tsp ground black pepper
2 dried red chilies (crushed) or 1 tsp chili powder

Method
Blend all the chimichurri ingredients together in a bowl and cover with plastic wrap.
Chill overnight to allow the flavors to blend, and remove one hour before serving to return to room temperature.
Grill the sausages and retain some of the juices.
Brush the bread with the chorizo juices and toast lightly.
Serve the sausages in the rolls with plenty of chimichurri on top.
World Cup snack: Currywurst
From Germany (No. 5 seed)

Ingredients
1 Bratwurst per person
1 crunchy white bread roll per person

Currywurst Sauce
1 cup tomato ketchup
1 tbsp hot chilli sauce
¼ tsp salt
¼ tsp black pepper
¼ tsp paprika
¼ tsp mild curry powder

Method
Combine all the sauce ingredients in a bowl and chill for two hours to allow the flavors to blend.
Broil or boil the bratwurst.
Serve the bratwurst on the crunchy roll smothered in the currywurst sauce.