Woman caught eating mayonnaise at basketball game sparks Twitter debate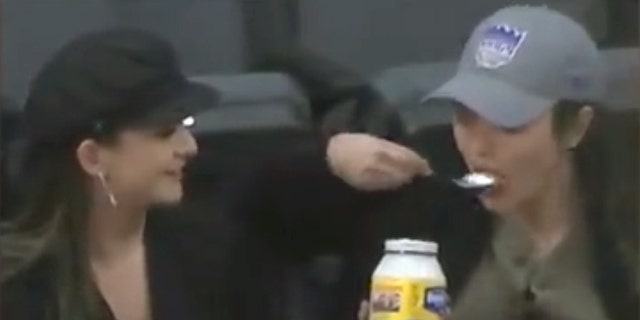 A woman has created quite a stir on social media for eating what appears to be a spoonful of mayonnaise at a basketball game.
In a video that has gone viral on Twitter, a spectator at the Detroit Pistons verse Sacramento Kings game Monday night was spotted on the jumbotron holding up a jar of Best Food's mayonnaise and indulging in a heaping spoonful of the condiment. The woman then offers her friend a taste, who takes a (slightly smaller) bite.
WOMAN EATS COTTON CANDY LIKE AN ABSOLUTE MANIAC, GOES VIRAL
ESPN tweeted the Fox Sports broadcast, which has over 2,600 likes, with the cheeky caption, "You know, there's food you can put that on."
The two Kings fans seemed to enjoy their evening condiment snack, but the Twittersphere has shared a different opinion.
One Twitter user graphically claimed, "I just about threw up."
"That's disgusting," another Twitter user wrote.
While one simply commented, "Ewww."
However, there are quite a few on social media who don't believe the women were actually eating mayonnaise.
"its most likely just vanilla pudding ive seen many people do this as a joke," one user hypothesized.
"You know it's not really mayo and you fell for their gimmick right?" another asserted.
FOLLOW US ON FACEBOOK FOR MORE FOX LIFESTYLE NEWS
Though the fan has not confirmed whether or not it was actually mayonnaise in that jar, she wouldn't be the first to snack on the dressing during a sports event.
Last year, a Belmont Bruins fan named Graham went viral for shoveling tablespoons of mayo into his mouth right behind the commentators. People reacted similarly by questioning what was actually in the jar.
Graham settled the debate on Twitter by showing him eating mayonnaise straight from an unopened packet.
"Vanilla pudding is disgusting!" Graham wrote alongside the video.