Wine for the 4th: red, white and...blue?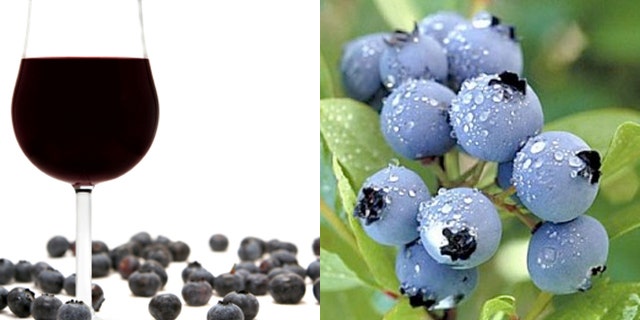 We are all familiar with red and white wines, but how about blue?

Vineyards both large and small across the country are branching out from their traditional grape-based wines and looking towards other popular fruits, such as blueberries, to create wonderfully delicious beverages for all occasions.
"I've been a blueberry farmer since 1995," states Joe Keel, owner of Keel and Curley Winery in the Tampa Bay Area. "In 2003 we started our production of blueberry wines; I needed to do something with the extra crop, and wasn't interested in making jellies or jams."

Varying climates across the nation allow for several different types of blueberry species to thrive.
Whether along the coastline, or towards central U.S., this super-fruit can be somewhat effortless to grow.

Keel and Curley Winery in Florida deems itself "The Napa Valley of the Tampa Bay Area." This Vineyard offers a variety of fruit-based wines with three variations on the blueberry theme. Their dry blueberry wine can act as the perfect accompaniment to brie and dried fruits, a semi-dry adaptation allows this wine to pair well with a nice stew, grilled meats and exotic cheeses, and a sweet version is said to be the perfect match for a backyard BBQ.

St. James Winery in Missouri, along with Alba Vineyard in New Jersey take pride in their abundant blueberry harvests, and both winemakers create flavorful and sweet dessert wines which are suggested to be served chilled as a post-dinner treat.

So why have blueberry wines recently become so popular in the eyes of both winemakers and consumers? "After people taste it, they are pleasantly surprised the quality isn't much different than grape wines," explained Keel. "It's popularity has definitely increased, it gets better every year!"

Blueberries have become the "fruit of choice" by many winemakers looking to try something new because not only do blueberries behave a lot like grapes, don't have to do anything special to process them. The alcohol content on many of these alternative fruit wines are also just as high as many grape wines, ranging from 10-14 percent alcohol by volume. And for those looking to test their skills at home, many websites also provide recipes to try making blueberry wine on your own.

There are even health benefits to this beverage, when consumed in moderation. Red, grape-based wine is frequently mentioned to have a beneficial amount of antioxidants. Earlier this year however, the University of Florida conducted a study that shows significantly higher levels of antioxidants in blueberry wine than in all of the white wines it was compared to, and also exhibited higher levels than 80 percent of the reds it was compared to.

So, no matter what your plans are or what you may be eating this July 4th, when you are deciding what should be your beverage of choice, stay patriotic and pick up a bottle of red, white, or even blue.