Why Gwyneth Paltrow's new cookbook is a hate magnet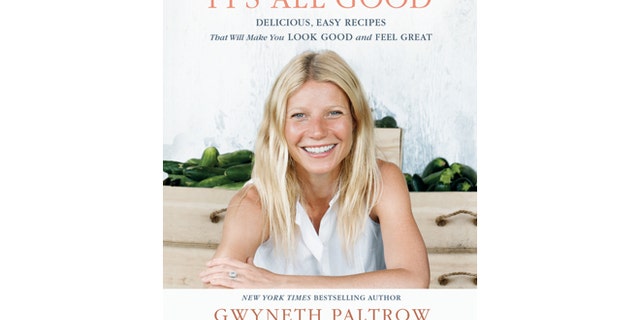 You might conclude from perusing posts about her newest cookbook that actress and author Gwyneth Paltrow should be seen and not read.
The Atlantic Wire calls It's All Good (Grand Central Life & Style) --which is out today --is "the bible of laughable Hollywood neuroticism." The New York Post describes it as a "manifesto to some sort of creepy healthy-girl sorority." The Huffington Post says, "We'd love to say it [the criticism] wasn't all deserved, but honestly, we just don't know anymore."
After all, it has so-called recipes that are likely to chafe the nerves of some in the foodie world, like her recipe for a hard-boiled egg, Camerino's popcorn (as in Cameron Diaz), and avocado on toast.
Hate-magnet that it is (the full title is It's All Good: Easy Recipes that will make you LOOK GOOD and FEEL GREAT) is still the latest feather in Paltrow's cap along with her Oscar, rocker husband Chris Martin, adorable kids Apple and Moses and heavily-trafficked (though mocked) high-end website, GOOP. Her first cookbook --My Father's Daughter-- was a bestseller and this one's poised to be same. There's a four-month backlog of pre-orders for the book.
The premise of the book is based on an elimination diet that her doctor put her on for three weeks to remove specific food groups to see if you feel better without them—with a low-carb, vegan edge. (Please keep reading.) Paltrow eliminates coffee, alcohol, dairy, chicken eggs, sugar, shellfish, deepwater fish, potatoes, tomatoes, eggplant, corn, wheat, meat, soy and all processed foods.
These aren't new concepts. In fact, there are a host of cookbook that do the same. But what the difference with this book is that it reads like a compendium of dietary restrain.
"Burgers are my favorite food in the world, which is ironic since I don't eat red meat," it reads. "Fish tacos are always amazing with battered and deep-fried fish, a no-no for this book on many levels."
A recipe for flaxseed, quinoa flakes, olive oil, rice syrup, prunes and pecans yields aptly-named (and apparently irony-free), "Bummer Bars."
The book seems to be more about restricting food than enjoying it.
Paltrow has a great track record as a food enthusiast, even co-hosting a PBS cooking series in Spain with Mario Batali. Though food genuinely interests Paltrow her approach to it in her current book seems somewhat… punishing.
She essentially removes good-tasting ingredients and uses substitutes to create dishes she says taste just as good. You could rechristen It's All Good, "It's Mostly Bad" and it would still be about the same thing.
Paltrow makes good on taste with effective use of nature's own flavor enhancers: garlic, salt, pepper, onion, lemon, pimenton (smoked Spanish paprika), capers, red chili flakes, ginger, olives, anchovies, parsley, soy sauce, sesame oil, vinegars, mustard, ginger, maple syrup. There's also esoterica like North African staples harissa (chili paste) and preserved lemons, and gochujang, a spicy Korean chili-based fermented soy and salt condiment. (Fermented soy, good. Regular soy, bad.)
The recipes I tried worked well and tasted fine. Paltrow's substitutions are well-thought out and she often overcomes problems of taste if not texture. The main issue is how much those substitutions cost.
She swaps out rice and pasta for quinoa, a South American plant. A four-pound bag of organic quinoa is $21.41. Pasta or rice cost about far less. A three-pound bag of uber-chef Thomas Keller's Cup4Cup gluten-free flour costs $19.94 at Williams-Sonoma. A five-pound bag of Pillsbury's All-Purpose is $3.09. Maldon Sea Salt, $10.22 for 8.5 oz. versus Morton's Salt, $7.95 for 26 oz. Manuka Raw Honey, $21.99 for 8.8 oz. versus Great Lakes Select Clover Honey, $20.94 for 96 oz. One-pound of salmon fillet for burgers, $15.99 at Whole Foods. Whole Foods' ground beef, $2.99 per pound. (All prices from Amazon unless noted.)
Some recipes are similarly unpractical. Two-Pan Chicken with Harissa, Preserved Lemons and Green Olives requires a Williams-Sonoma pre-order for harissa and lemons, two cast-iron frying pans, and a whole chicken—de-boned with skin intact. Pre-heat one pan to 500-degrees, remove from oven, coat bottom with oil, then place it atop the chicken that's sizzling in the other pan on the stovetop. Then put the whole thing into a 500-degree oven. It's tricky and potentially dangerous and requires a wingman for safety.
Paltrow deserves credit for being true to herself in the face of detractors. She is what she eats, she practices what she preaches. She's a style icon for those who have the leisure and means to embrace a high-end, alternative lifestyle. She does make meat-free, dairy-free, almost-everything-free dishes palatable and interesting. But, her substitutions reflect a seeming inability to recognize that her suggestions are cost-prohibitive for most American families.
It's All Good promises to make you look good and feel great—it's right there in the sub-title. And it implies that you too, can be part of Paltrow's world. A world where food is fashion and where fried chicken, red meat and milkshakes stick out like Twinkies at the White House. Good luck with that.