Why do we eat caviar on New Year's Eve?
Along with popping open a bottle of Champagne, enjoying decadent food is a time-honored New Year's Eve tradition, signifying good fortune for months to come.
And few foods are as decadent as a ridiculously expensive tin of caviar.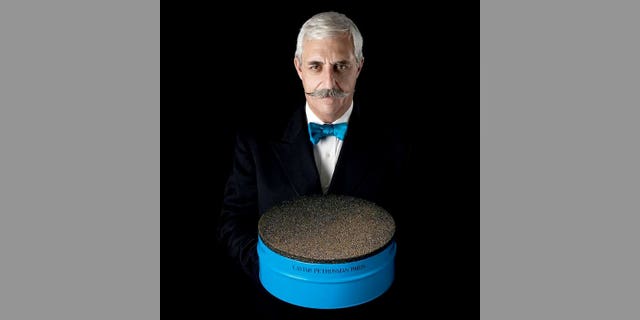 "Caviar has always been enjoyed at big Russian feasts, and New Year's is one of the most celebrated holidays," says Alexandre Petrossian, vice president of the luxury gourmet foods purveyor that bears his surname. "As caviar became more popular throughout Europe, the tradition was Westernized, and now many people toast the season with it."
Melkoum and Mouchegh Petrossian, the brothers who founded Petrossian in Paris in 1920, are credited with popularizing caviar outside of Russia. Today, Petrossian is one of the largest caviar distributors in the world, sourcing sturgeon eggs from hatcheries across the globe, including Florida, California and Israel. Though "caviar" is often used loosely to refer to any type of fish eggs, true caviar comes only from sturgeon, and its color ranges from light brown to almost black.
That bright orange stuff in your sushi? It's probably salmon roe.
That's fine for any Thursday night, but if you're looking to really blow it out when the clock strikes midnight on New Year's Eve, Petrossian is offering a tin of any caviar of your choice – 22 pounds of savory fish eggs – for only $125,000.
If you've never tasted caviar, imagine tiny, slightly salty bubbles that melt into a slightly briny (like oysters) creaminess in your mouth.
"Great caviar should have a buttery smoothness to it and shouldn't really taste fishy at all," Petrossian says.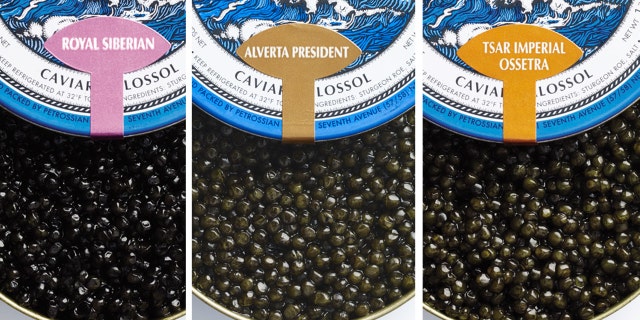 Though the idea of eating fish eggs may be a turn-off to the uninitiated – or to people who have tried inferior varieties – Petrossian's smooth, buttery offerings usually win over even the most squeamish of them. Just ask the tasters from Chew on This who sampled three premium Petrossian varieties.
The company's Royal Siberian caviar – tiny dark gray pearls with a slightly nutty pop and less briny finish – is one of the company's mildest offerings. It comes from farm-raised sturgeon in Florida and retails at $91 for 1.06 ounces.
The Alverta President caviar – with light gray and brownish pearls – comes from a Sacramento hatchery and starts at $125 for just over an ounce. It's still buttery, but the beads are slightly firmer and have a more robust brininess that lingers on the palate.
"I love the slight pop-pop of this on the tongue. It's smooth and a little bit nutty – like I wouldn't even guess this was seafood," said a taster who had never tried caviar before.
On the more expensive side, with tins starting at $176, the Tsar Imperial Ossetra caviar is for the true caviar lover. It has firm, medium-sized dark brown beads with a rich sea flavor that is as bold on its own as it is with toast.
"I've never had a caviar like this. I thought I wouldn't like it, but this really isn't salty. It's just super smooth and fresh," a taster said.
If you're just starting out, Petrossian recommends eating your caviar plain.
"Keep it simple," he says. "No need for toast or extras. Just let the flavor speak for itself and find out which kind you like best."
Caviar should be enjoyed almost immediately after purchase, so don't buy until a day  or two before your party. Waiting a couple of days or even a week is OK, but the flavor will start to change after about a month. When serving caviar, it's important to keep the tin on ice-- you don't want the eggs to freeze do don't store it in the freezer, but room temperature caviar isn't as palatable.
And the biggest no-no when it comes to caviar?
That would be eating it with a silver spoon. That fancy mother-of-pearl tasting spoon actually has a purpose.
"Stainless steel or gold are OK," Petrossian says, "but silver oxidizes the delicate flavor and will totally mess up the taste. Mother-of-pearl makes an elegant presentation, but it also feels nice in the mouth."
So put down the silver. You paid a lot for that caviar. You should enjoy it at its fullest.