Why Americans are eating more butter than ever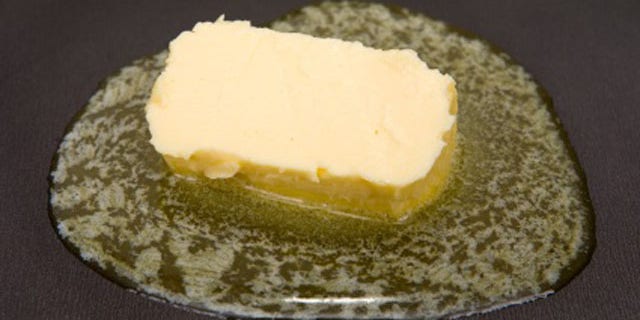 Time to slather it on.
The American Butter Institute this week said U.S. butter consumption has reached its highest level in 40 years.
In 2012, Americans ate 5.6 pounds of butter per capita, an increase of 25 percent from 10 years ago.
Anuja Miner, the executive director of ABI, said in a release that the shift has been in part because consumers are moving away from highly processed foods. Trans-fat-loaded margarine and processed products made from partially hydrogenated vegetable oils are being left on grocery store shelves.
"Margarine and other spreads are no longer viewed as healthier alternatives," Miner said.
The use of butter goes back thousands of years to when our ancestors first started domesticating animals. And long before Paula Deen sparked up the deep fryer, butter was eaten as a stand-alone dish. In January, the blog Food History Jottings uncovered a recipe for roasting a pound of butter on a wooden spit from the 1600s. And while today's consumption seems like a big jump, consider this: In the 1930s before the widespread use of synthetic fats, an average American ate 18 pounds of butter a year.
Frederik De Pue, chef and owner of Washington, D.C.'s Table, says there's nothing like the richness and texture of butter.
"It's all about how often and how much you use -- it's not a constant presence in all of our dishes. I'd much rather eat a reasonable portion of something I've seen our farmer's make than something made unnaturally," said De Pue.
This sentiment is being felt by many who are heralding butter's health benefits. It contains lecithin, important for cholesterol metabolism, and is also high in anti-oxidants and the most easily absorbable form of Vitamin A.
While olive oil is still a popular choice among chefs, butter is no longer a dirty word.
"People are realizing that butter is not the enemy: everything in moderation," says Candy Argondizza, vice president of Culinary and Pastry Arts at New York's International Culinary Center, a cooking school that uses 21,946 pounds of butter a year. "In professional kitchens, we use butter freely to finish sauces to round out the flavor and soften acidity, for instance. Now, home cooks are paying much more attention to professional ways in the kitchen and imitating these practices."
And it isn't just butter from cows. From kitchens to restaurants, cooks are experimenting with goat butter, duck fat and Manteca (lard with paprika) and embracing its cultural differences.
"Consumers want to replicate the 'traditional' experiences of the cuisines they enjoy and fats play an important role just as salts. You wouldn't add kosher salt to a Thai dish, you'd add fish sauce... you wouldn't add fish sauce to a Mediterranean dish, you'd add preserved citrus or brined olives, etc.. same goes for fats," says John Critchley, the executive chef at the Four Season's Bourbon Steak in D.C.