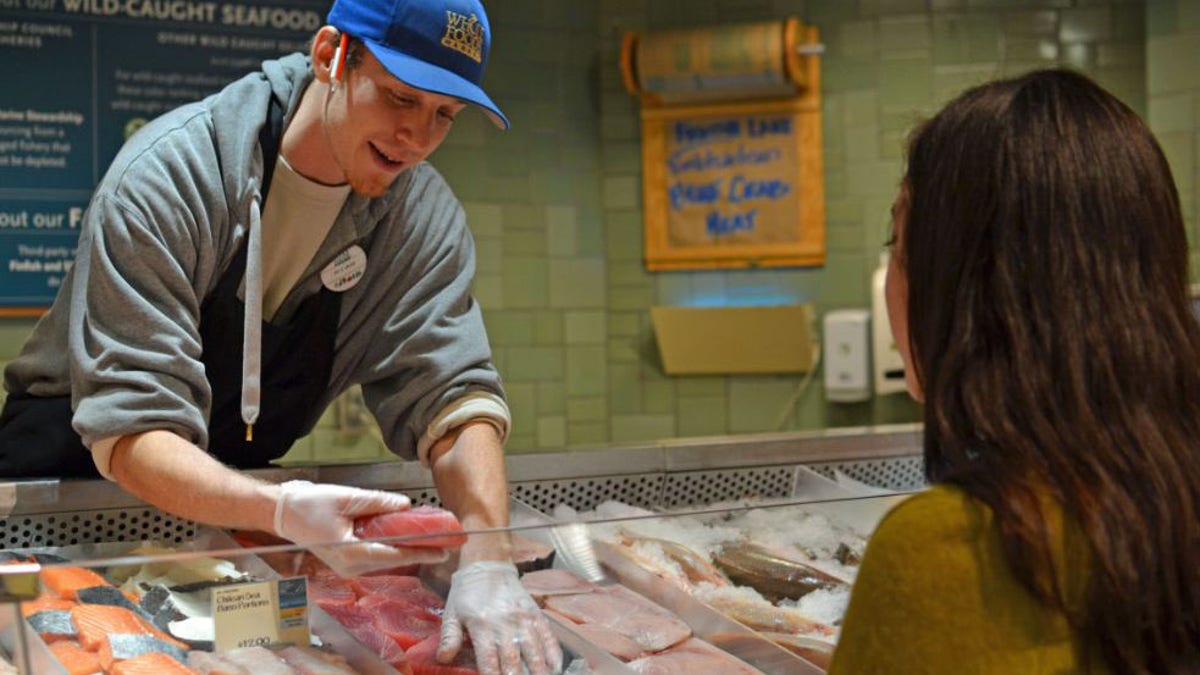 A Whole Foods ban on seafood starts this week. The organic and natural food superstore will no longer carry fish that have been labeled unsustainable by the Monterey Bay Aquarium's Seafood Watch and the Blue Ocean Institute.
In 2010, the company announced that it would stop selling red-rated fish in 2013, but moved up its deadline to Earth Day 2012.
"Today's a big day for us," announced the Whole Foods blog on Sunday. "Not just because it's Earth Day but because as of today, in support of healthier oceans and to help reverse overfishing trends, Whole Foods Market will no longer carry red-rated wild seafood."
"It's totally maddening. They're just doing it to make all the green people happy."
Whole Foods had already stopped stocking fish such as orange roughy, shark, bluefin tuna and most marlin.
"I care about the environment and what I eat, what I put in my stomach," Whole Foods shopper, Snejana Andjelkovic, told the Washington Post.
While Whole Foods' elimination of red-rated fish has been popular with environmentalists and eco-friendly consumers, fisherman, mostly based in New England ports, will take a serious financial hit due to the ban, according to a report in the New York Times.
"It's totally maddening," Massachusetts fisherman, Naz Sanfilippo, told the Times. "They're just doing it to make all the green people happy."
Wondering what you will no longer be able to buy at Whole Foods?
Take a look at the list of Monterey Bay Aquarium's code-red fish:
Caviar, Sturgeon (imported wild)
Chilean Seabass/Toothfish
Conch: Queen
Crawfish/Crayfish (imported farmed)
Flounders, Halibut, Soles (US Atlantic, except Summer Flounder)
Groupers (US Atlantic)
Lobster: Spiny (Brazil)
Mahi Mahi (imported longline)
Marlin: Blue, Striped (Pacific)
Orange Roughy
Salmon (farmed, including Atlantic)
Sharks & Skates
Shrimp (imported)
Snapper: Red, Vermilion
Swordfish (imported)
Tilapia (Asia farmed)
Tilefish (US Southeast)
Tuna: All Canned, Albacore, Skipjack,
Tongol (except troll/pole)
Tuna: Bigeye, Yellowfin (longline, except US Atlantic)
Tuna: Bluefin