Wawa customer claims he found maggots in his sandwich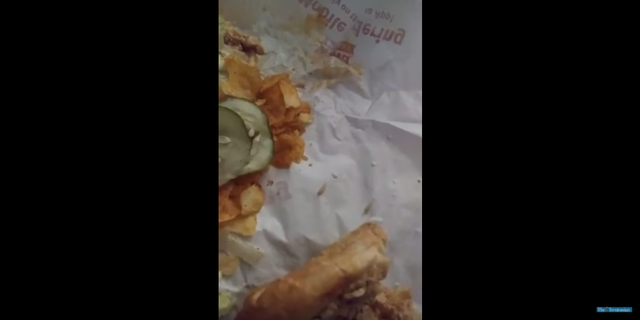 A man in New Jersey reportedly found maggots in his Wawa sandwich and posted a video on YouTube to prove it.
Chris Garcia said he brought home a buffalo chicken cheesesteak sandwich from a Wawa convenience store in Ewing, N.J. after work on Saturday, The Trentonian reported.
But after taking a few bites, he reportedly noticed that the sauce on his sandwich wrapper was moving.
"My sauce started going up on my paper wrapper," Garcia told The Trentonian. "Sauce isn't supposed to do that. So I flipped my light back on and I saw two maggots just moving around on my sandwich."
Garcia said he showed his sandwich to his mom before running to the bathroom to throw up, the report said.
In the YouTube video, posted by Garcia's mother, the maggots could be seen crawling around in the sauce near what was left of Garcia's sandwich.
Garcia said he went back to the Wawa store with his mother afterwards, where he was offered a refund or another sandwich, The Trentonian reported. Garcia opted for a refund.
He also claimed that the employee who assisted him tried to make a joke of the situation, before telling him that everything would have to be thrown out.
"I didn't think it was handled appropriately," Garcia told The Trentonian. "I don't think they really cared."
Garcia said he went to the hospital that night, where he was given medicine to kill the bugs, although he said he wasn't sure if he actually ate any, according to the report.
"There could've been more underneath the meat," he said. "I did not feel like digging through the meat to see if I could find more."
Wawa released a statement, in regards to the "unverified video," to their website on Tuesday.
"We want to clear up any confusion surrounding the unverified video. Outside of this single, unauthenticated video, our robust internal investigation shows there is no evidence that substantiates the claims made in the video," Wawa said. "In fact, we believe the circumstances described in the video are highly unlikely, if not impossible to occur in our store environment."
"However, because we take each and every complaint seriously, we are putting this allegation through our detailed authentication and assessment process," they said.
Garcia said he has not been to Wawa since and is considering legal action against the chain, The Trentonian reported.
"It's not really about the money. They can't be serving food like that," he said. "People could really get sick from this."