Wacky pasta developed by MIT engineers can change shapes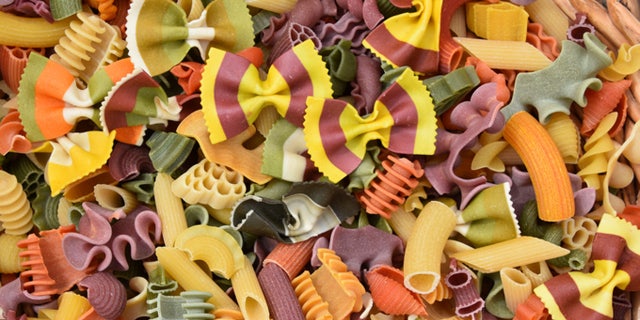 NEWYou can now listen to Fox News articles!
Sometimes you want rigatoni. Sometimes you want orecchiette. Well now you can have both-- at the same time.
Researchers at MIT have developed a prototype flat pasta that changes shape when submerged in water. They debuted their creation at the 2017 CHI Conference on Human Factors in Computing Systems in Denver, Colo. in May.
The team's final product? Multiple flat noodles that will shift their dimensions to create shapes such as: the helix noodle; flower noodle and a disassembling noodle that breaks into separate pieces in water.
PHILADELPHIA CHEF ALMOST LOSES HAND TO PASTA MACHINE: 'I JUST HEARD A CRUNCH'
The team has been using a gelatin, cellulose and starch mixture to create their shape-shifting noodles but unfortunately it's not quite ready for human consumption since it doesn't really have that traditional pasta taste, says the team.
The project, which the team is calling Transformative Appetite, was created by Tangible Media Group and headed by Lining Yao, a Chinese designer who specializes in Smart and Living materials.
Yao uses a software, which she hopes consumers can one day use to create their own style of pasta, to control the bending behavior of the flat noodle. Yao and her team introduced ethyl cellulose strips to the flat noodles to act as shape constraints and water barriers that give the noodle its unique shape.
FOLLOW US ON FACEBOOK FOR MORE FOX LIFESTYLE NEWS
"With this process something usually extremely functional as food becomes esthetical," Yao told Next Nature Network. Yao believes that the texture of the noodles are there, but added that the product "does not have the traditional pasta flavor yet."
Yao has contacted Italian pasta manufacturer, Barilla, to potentially team up and create a mixture that can still transform when wet but also has the classic pasta taste that she believes it needs.
Along with the beautiful designs of pasta, the team's goal is to make something that will allow companies to cut their costs on boxing and shipping so manufacturers need only one box for multiple types of product.