Viral video of 'zombie fish' appears to show seafood jump off plate at Chinese restaurant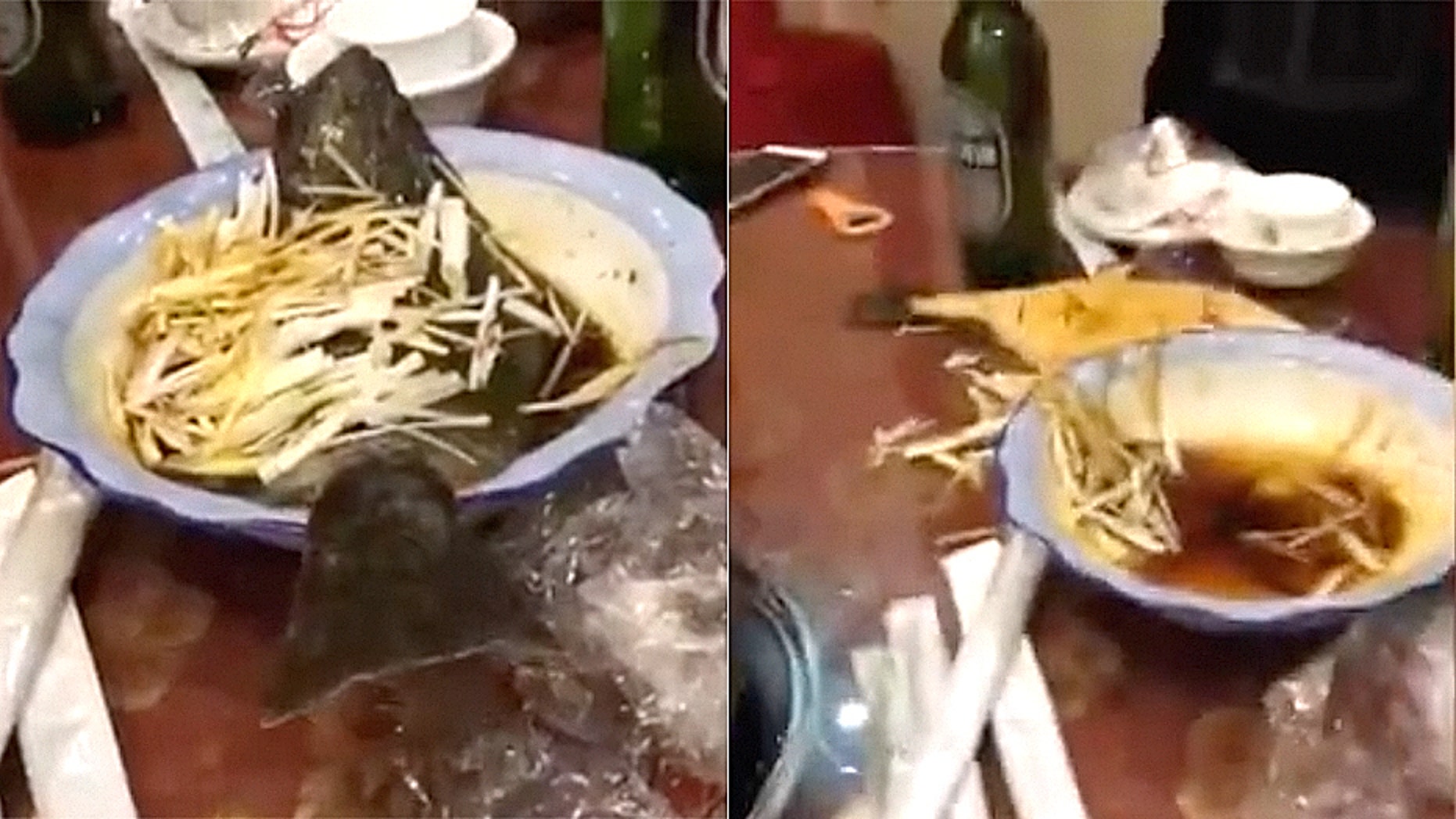 Generally speaking, most meat, fish or fowl served in restaurants tends to remain stationary while diners are trying to eat — but it appears there are exceptions to this rule.
Footage from an unnamed Chinese restaurant appears to shows a fish — plated and dressed with sauce and scallions — seeming to spring back to life and jump off the plate in front of a group of shocked patrons, according to The Metro.
The "Zombie Fish," as it is being called, continues to briefly flop on the table before the clip comes to an end.
RESTAURANT WORKER COMES TO WOMAN'S HOUSE AFTER MEDIOCRE YELP REVIEW
Footage of the bizarre incident was shared to the Chinese video-streaming platform Youku on May 2, though the site doesn't detail when, or where exactly, it was taken. The description does not specify whether the fish was cooked before it was brought to the table, The Metro reported.
While instances such as this are startling, it's not entirely uncommon for a fish or sea creature to keep kicking after being killed. Lobsters have been observed moving after being butchered and served raw, and the South Korean dish of San-nakji — made by butchering a live octopus — is often served and eaten while tentacles are still moving.
Discovery News has also confirmed similar phenomena, during which a slaughtered fish or octopus keeps moving long after its death.
CEILING COLLAPSES AT INDIAN RESTAURANT, TRAPS 'SCREAMING' DINERS UNDERNEATH
"Most of the tissue in an organism that's recently dead, recently killed, is actually still alive," explained Charles Grisham, a professor of chemistry at the University of Virginia, explained to Discovery News in 2011. "Even though the brain function is missing, the tissues will still respond to stimuli."
In the case of the octopus observed by Discovery News, Grisham theorized that the muscle contractions of the animal were triggered by sodium chloride in the soy sauce, which probably "changes the voltages across the membranes," moving the dead muscle tissue. He observed that sodium chloride from salt had the same effect on frog legs.
FOLLOW US ON FACEBOOK FOR MORE FOX LIFESTYLE NEWS
Grisham, however, stated that the creatures featured in such viral videos are not feeling pain, as they had no brain function to process it.