Viral singing grocery store worker accepted to elite music school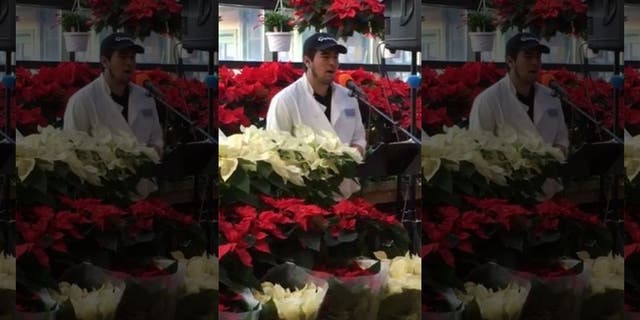 When a Massachusetts grocery store employee warmed up sound equipment set up for Christmas carolers in December, he didn't expect his impromptu performance to go viral on Facebook with over 260,000 views. Catching the attention of the prestigious Berklee College of Music, the 23-year-old man is overjoyed to now be accepted to his "dream" music school.
"My heart stopped, I didn't know what to do," Guilherme Assunção told WCVB on April 2 about opening the letter. "And then the first word was 'congratulations,' and I was so happy."
KENTUCKY PIZZA DRIVER RESCUES TWO PEOPLE FROM BURNING HOUSE
A worker and deliveryman at Russo's in Watertown, near Boston, Assunção was working before Christmas when he spotted the shop owners prepping sound equipment for holiday singers, and jumped at the chance to test out the microphone.
Belting out a powerful performance of "O Holy Night," his voice instantly stopped shoppers in their tracks.
"I left my cart and left my bag, and people were circling around," one shopper told The Boston Globe. "Everybody just stopped. It was just so beautiful."
PRO-PALESTINE STUDENTS PETITION COLLEGE TO BAN SABRA HUMMUS FROM CAMPUS
A native of Brazil, Assunção moved to the U.S. in 2015 to pursue his musical career and attend college. Finding a job as a dishwasher at Russo's, he enrolled himself in classes at the Computer Systems Institute, the Globe reports. Though he's never had any formal training, he said he starred in a wildly popular production of "The Phantom of the Opera" in high school, attracting audiences of nearly 5,000 people each night.
Berklee soon caught wind of Assunção's talents, and asked him to apply. Though tuition costs $42,000 per semester for the school's undergraduate degree program, he is determined to make it work. Applying for grants and scholarships, his friend also created a GoFundMe page to help fund tuition.
"I'm super excited for the opportunity" Assunção said. "I've just got to make it happen."