Video of McDonald's 'internal breakdown' goes viral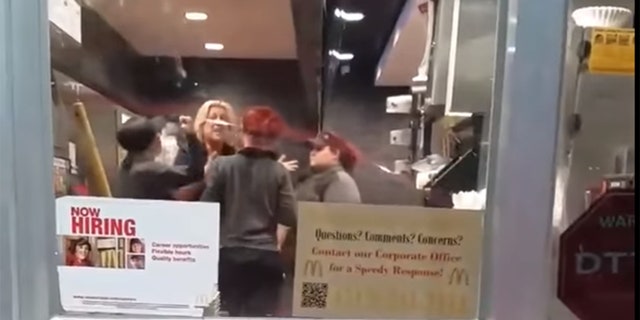 An unidentified man filmed an altercation in a McDonald's that has now gone viral.
The man was sitting in his car in a McDonald's drive-thru and smoking a cigarette while waiting for his food when he noticed an internal conflict happening among the McDonald's employees.
WARNING: This video contains extremely graphic language
At one point early in the video, an employee comes out and informs him they are waiting on the "sausage meat" for his order. To which the man makes a joke, referring to the argument happening inside the chain restaurant.
MCDONALD'S APOLOGIZES, PULLS RADIO AD AFTER FACING CRITICISM FROM DINOSAUR MUSEUM
Once the employee closes the drive-thru window again – which people on YouTube have been quick to point out displays a "Now Hiring" sticker – the conflict continues with employees yelling at each other, while someone assumed to be the manager in a blue button-up shirt, is seen possibly attempting to diffuse the situation.
The woman in the blue shirt comes and demands the man stop recording, which he disregards.
Tension continues to increase when the manager goes back to the team, resulting in violence when a man assaults his coworker by pushing her over.
FOLLOW US ON FACEBOOK FOR MORE FOX LIFESTYLE NEWS
The video shows the altercation continuing while the manager is on the phone, until she sees him still filming and demands he leave the establishment.
The man says at the end that the restaurant threw food in his car in an attempt to make him leave.
Little is known about what started the confrontation, and no police records regarding the event have been found.
Since the video, described as "McDonald's has complete internal breakdown," was posted on January 25 to YouTube, it has gained nearly 900,000 views and has been listed in viral videos on Facebook.
We have reached out to McDonald's for a statement. We will update when once is received.