Veterans sprout new careers through the Farmer Veteran Coalition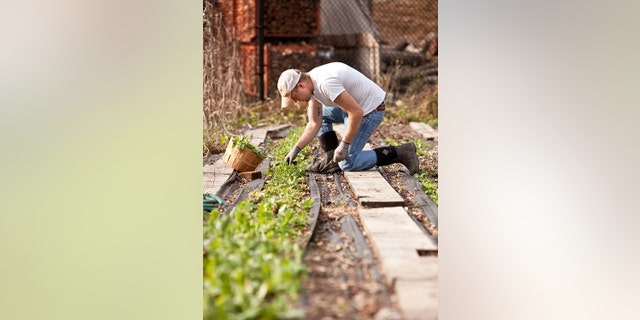 In 2007, Michael O'Gorman read a story in a newspaper that grabbed his attention and resonated, because his son, Gregory, was serving in the military in Kuwait at the time.
"There was a study from the Carsey School of Public Policy which found that U.S. military troops who died serving in Afghanistan and Iraq were disproportionately from rural areas of the U.S.," recalled O'Gorman, a lifelong farmer from Central California.
"It struck a lightbulb in my head. In agriculture, we were in a crisis. We needed more young people to become farmers. When I saw the study, we were at the peak of the wars in Iraq and Afghanistan. I thought, if these guys and gals are serving their country, why not help make jobs for them on our farms?"
O'Gorman called his farmer friends in northern California to talk about creating space on their farms to employ veterans, and "Word got out about the meeting. Three mothers who lost their sons in Afghanistan, one of them was Mary Tillman, attended the meeting to support us."
VETERANS FIND SUCCESS IN THE COMPETITIVE FOOD TRUCK WORLD
And so began the Farmer Veteran Coalition, based in Davis, Calif. O'Gorman left farming a year later to launch the nonprofit, which so far has given out $1.2 million in grants to veterans who want to start farms. Their combined sales total $50 million and counting.
Today, some of the coalition's supporters include Bob Woodruff Foundation, Newman's Own Foundation, Prairie Grove Farms, Farm Credit Counsel, Prudential Financial and Kubota Tractor Corporation.
"I'm honored to work with the level of character of people in the military," said O'Gorman, who did not serve in the military. "It's exceptional. There's a real sense of service that brings out the best in people….
"When I read the Carsey study, there was something magnetic about the idea of getting veterans on the farm. Just short of 40 years in my career path, I decided to do something different."
In the coalition's early stages, O'Gorman would hear about a veteran who wanted to start a farm and he'd hit the road to provide ground-level coaching.
"I'd fund my own trips to go meet veterans across the country," O'Gorman said. "I met with nine veterans in one year. I advised them, I'd train them, I'd bring vets down to a farm in Mexico. And I financed it myself."
But word spread fast, and in 2009, O'Gorman received substantial funding from the Iraq and Afghanistan Deployment Impact Fund, which he said "was handling the nation's largest private donation made on behalf of American veterans.
"They vetted 50 groups and distributed most of the money the year prior, but when they heard about FVC, the leaders recognized the unique program we had to offer veterans, and we became the 51st group to receive funding. After that, more funders started hearing about us and we slowly began to grow….
"Most of our funders heard about what we were doing and came to us wanting to help. We went from nine vets to 9,000. And the need is there for more support."
Marvin Frink, a disabled Army veteran who served in Desert Storm, is a recipient of the Farmer Veteran fellowship, a small grant program through the Farmer Veteran Coalition that provides direct assistance to veterans as they begin their farming careers.
"My father gave me the idea of farming," Frink said. "I was coming home from deployment, and my father saw that farming would help me out. He'd send me to his friend's farm to help out as a hand, and that helped me with my PTSD. My dad said working with your hands will help with PTSD, and it did….
"Farming is an equivalent to going on tour. "There's the time of day where things need to get completed, no matter what's going on with the weather or in our lives. Farming is like working with my old platoon. It gives me a sense of duty, and I feel responsible for something."
Frink raises cattle for beef and produces pork under the coalition's licensed Homegrown by Heroes label at Briarwood Cattle Farm in Fayetteville, N.C., where he's been working for five years.
"I've taken something negative and turned it into something that's positive. Serving your country in the way of agriculture is the way to go."
Matthew Raiford, a 10-year Army veteran, and his sister Althea, who spent 20 years in the Navy, run Gilliard Farm in Brunswick, Ga., which has been in the family since 1874.
The Farmer Veteran Coalition "expanded our network nationally," Matthew said, "and it's been an amazing transition because you're working with people who've seen the world the way you've experienced it, so it's easier to communicate."
Through the coalition, the Raifords received a high tunnel that "allows us to get our crops in the ground faster during the cooler months. We had a growing season of 10 months, so it extended our growing season for the last two months, making us year-round."
FOLLOW US ON FACEBOOK FOR MORE FOX LIFESTYLE NEWS
Althea, the first woman to receive the coalition's Bob Woodruff scholarship, has attended conferences with the nonprofit for four years. She met her friend, Kelly Carlisle, through the coalition.
"Kelly started the youth urban farm project, Acta Non Verba, where children from Oakland, Calif., come work at her farm," Althea said. "The kids sell their vegetables at local farmers markets, and profits go into a college fund for college. Matthew and I have been working with Kelly to help raise money for her project."
"We have friends now all over the United States now," Althea continued. "It's hard being a farmer wherever you are. Sometimes it's just a matter of calling someone who knows where you've been, and what you're going through, to push you to the next level. By providing food to our community, we're making it better and stronger."