Vegans are upset with Gordon Ramsay over his 'PETA' tweet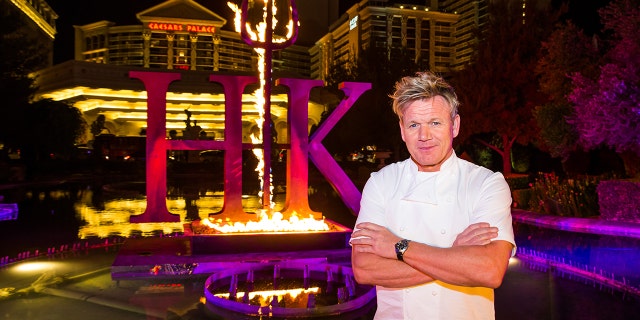 NEWYou can now listen to Fox News articles!
Gordon Ramsay hasn't exactly hidden his disdain for vegan food in the past, but a recent joke about vegan lasagna appears to have crossed a line, as cheesy as it may have been.
Last week, one of Ramsay's followers asked him to rate her cooking skills, asking, "How does my vegan lasagna look[?]" Her request wasn't exactly out of left field, either: Ramsay is often asked to rate his followers' meals, and he routinely responds by dishing out his harsh, comical critiques.
GORDON RAMSAY'S TASTE IN BEER CALLED INTO QUESTION
But instead of merely telling this particular follower that her food looked unappetizing, the 51-year-old celebrity chef responded by telling her he's a "member of PETA," an acronym also used for "People eating tasty animals."
Despite earning 150,000 "likes" and garnering nearly 45,000 retweets, Ramsay's response offended vegans across the Twittersphere, and soon sparked an online debate in the comments section.
For starters, PETA — the actual People for the Ethical Treatment of Animals, in this case — knocked Ramsay for "using an old line" before suggesting that his restaurant kitchens are filled with "corpses [and] secretions from artificially inseminated, castrated, [and] routinely abused animals."
GORDON RAMSAY SAYS HE LOST 50 POUNDS TO SAVE MARRIAGE: 'I LOOKED LIKE A SACK OF S---'
Vegan Twitter users soon followed suit, calling out Ramsay for his "ignorant" attitude and accusing him of being intimidated by "the rise of the vegan movement."
Others took the opportunity to defend Ramsay, with some declaring themselves members of the same "PETA" organization as he.
FOLLOW US ON FACEBOOK FOR MORE FOX LIFESTYLE NEWS
Ramsay has not yet publicly responded to his detractors, but he hasn't been shy about voicing his opinion on veganism during his career. In 2016, he once told a Twitter follower he was allergic to vegans. And over a decade earlier, he knowingly fed a vegetarian a slice of pizza topped with ham on an episode of "Kitchen Nightmares," the Telegraph reported.