Strangers at McDonald's sit down to share meal, unexpectedly go viral: 'Why can't people be more like these two?'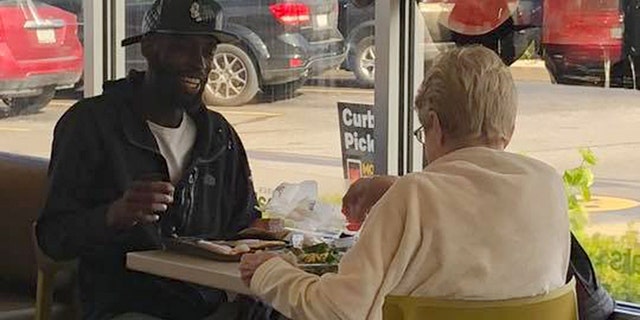 An unlikely pair who shared a meal at a McDonald's in Indiana is going viral for the best reason.
The two strangers caught the attention of another customer, Amanda Craft, who was touched by the heartfelt moment they shared.
Craft, a teacher from Noblesville, was dining at the fast food chain with her colleagues Nov. 8 when she spotted an older woman, known only as Jan, ask a young man, Eric Haralson, 28, if she could join him at his table.
"Shout out to this guy! This elderly lady (seemed to be a little lonely) came up to him and asked if she could sit with him. Without hesitation, this guy said 'of course,' Craft wrote in a post on Facebook, along with a photo of the duo enjoying each other's company.
AIR INDIA PILOT GROUNDED AFTER REPORTEDLY FAILING TWO BREATHALYZER TESTS BEFORE FLIGHT
Craft said the pair fell right into easy conversation as if they weren't merely strangers.
"My friends and I watched him introduce himself and shake her hand. They talked and laughed together like they were friends. They didn't know each other, and they couldn't be more different. But today they shared a meal together and it touched our hearts," Craft wrote.
Haralson told ABC News that Jan approached him when he was eating breakfast not long after she'd tried having a conversation with a group of teenagers at the restaurant.
He said the two talked for 45 minutes then exchanged numbers before parting ways.
"She goes to church every Sunday, we talked a lot about that. We talked about my girlfriend, my kids. She did not have any kids or a significant other that she made mention of," Haralson told ABC News.
"I could tell she's a firecracker. She will tell you exactly how she feels and has no problem being outgoing," he said.
He also plans to stay in touch with Jan. He even called her to let her know the two of them had gone viral.
"I don't know if she has anyone else in her life and I want to reach out to her as much as I can," Haralson said.
FOLLOW US ON FACEBOOK FOR MORE FOX LIFESTYLE NEWS
Craft's photo of Jan and Haralson had over 6,400 likes and hundreds of comments as of Tuesday morning.
"Why can't people be more like these two people[?] Such a beautiful story."
"What a beautiful moment to have captured. I hope they do continue to have a meal together in the future. What a wonderful man. The world needs more like him."
"Different races, different cultures, different genders, different ages... and YET... how beautiful and inspirational!"