Trump Winery under fire after applying for visas seeking foreign workers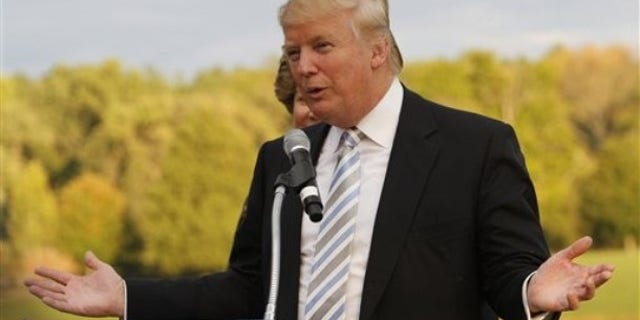 Trump Winery is facing backlash from critics and federal ethics experts from both parties after it emerged the Virginia vineyard applied for temporary visas for foreign workers earlier this month.
The winemaking operation, also known as Trump Vineyard Estates, applied for six H-2A visas for temporary jobs valid from Jan. 31 through June 30 of this year. According to the New York Post, the winery's petition said the workers would be required to lift up to 80 pounds, would be exposed to "extreme" temperatures while the job would also involve "extensive walking" and "frequent stooping."
Donald Trump purchased the estate in 2011 and gave it to his son Eric, who now owns and manages the property. Though he is no longer involved in the daily operations of the winery, when he becomes president in January, Trump's Labor Department would be responsible for reviewing the winery's request.
During the campaign, the President-elect vowed to tighten immigration policy and make jobs available for Americans. His son also touted the same goals.
"We're losing all of our jobs, people are working harder, we're being taxed more, all of our jobs are going overseas. It's just a very, very sad thing," Eric Trump told Fox News in September.
The H-2A visa is intended for unskilled or skilled laborers to work in the U.S. on a seasonal basis. For workers to qualify for H-2A classification, the petitioner must demonstrate that there are not enough U.S. workers willing, qualified, or available to do the temporary work.
CAN YOU REALLY BUY TRUMP STEAKS? THE REAL DEAL WITH TRUMP'S FOOD EMPIRE
CBS Miami reported that at Trump's Mar-a-Lago estate, between 70-90 H-2B visas have been requested per year since 2008 for jobs with a starting pay between $10 and $12 an hour. As recently as July, the club requested nearly 80 H-2B visas for housekeepers, waiters and cooks for the Palm Beach resort and for the Trump National Jupiter golf course, also in Florida.
In a presidential debate in March, Trump explained the need for hiring foreign workers at his Palm Beach property, saying, "it's very, very hard to get help."
Norm Eisen, a visiting fellow at the Brookings Institution who was chief White House ethics lawyer for President Obama from 2009 to 2011 told the Washington Post the position was, "a classic conflict of interest."
FOR THE LATEST FOOD FEATURES FOLLOW FOX LIFESTYLE ON FACEBOOK NOW!
"It's critically important that these [types of requests] be handled by career employees in federal agencies who have civil service protections," Richard Painter, a professor at the University of Minnesota Law School, and former White House ethics lawyer in the George W. Bush administration, told the Post.
"Anyone appointed by him should be required to recuse themselves. It's not required by law, but he should do it anyway."
Following the central theme of Trump's campaign promises touting bringing jobs back to the U.S.-- and punishing companies which take operations away from the country-- many on social media responded by calling the Trumps' decision to apply for more foreign worker visas hypocritical.
Trump winery filed an application to hire foreign employees. $10.72 an hour and unpaid lunch. Hire American? #lyingliar #trump.

— Andrew Zicklin (@Reach_Far) December 23, 2016
Trump Winery did not immediately respond to a request for comment.