Trump adviser Stephen Miller reportedly threw away $80 sushi after bartender gave him the finger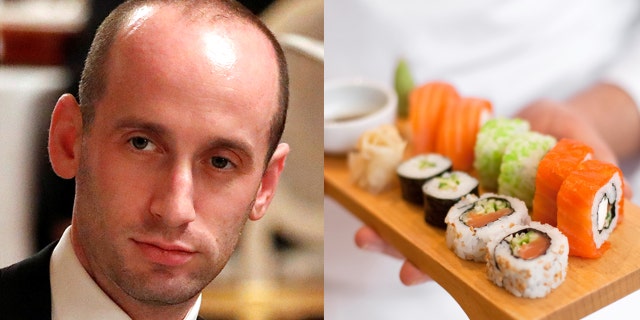 NEWYou can now listen to Fox News articles!
White House senior policy adviser Stephen Miller didn't anticipate a side of backlash when he recently picked up an $80 order for takeout sushi in Washington, D.C.
The 32-year-old Trump adviser was reportedly heckled at a sushi restaurant near his apartment in the District during an encounter that spurred him to immediately throw the meal away, according to The Washington Post.
The name of the restaurant remains unclear at this time.
IHOP ADMITS TO FAKING IHOB NAME CHANGE FOR PUBLICITY
"One night, after Miller ordered $80 of takeout sushi from a restaurant near his apartment, a bartender followed him into the street and shouted, 'Stephen!'" the Post reported. "When Miller turned around, the bartender raised both middle fingers and cursed at him, according to an account Miller has shared with White House colleagues."
"Outraged" over the incident, Miller reportedly proceeded to throw the sushi away for fear that a restaurant employee spit into his order or possibly tampered with it.
ROYAL COUPLE SERVED 7-YEAR-OLD CAKE FOR PRINCE LOUIS' CHRISTENING
The news makes Miller the third high-profile government official to face heat from D.C. area restaurateurs while dining out in recent weeks.
In June, Homeland Security Secretary Kirstjen Nielsen was harassed at and booted out of a Mexican restaurant in D.C. over the federal government's "zero tolerance" stand at the U.S.-Mexico border. And just days later, White House Press Secretary Sarah Sanders was asked to leave The Red Hen in Lexington, Va. by the owner, midmeal.
FOLLOW US ON FACEBOOK FOR MORE FOX LIFESTYLE NEWS