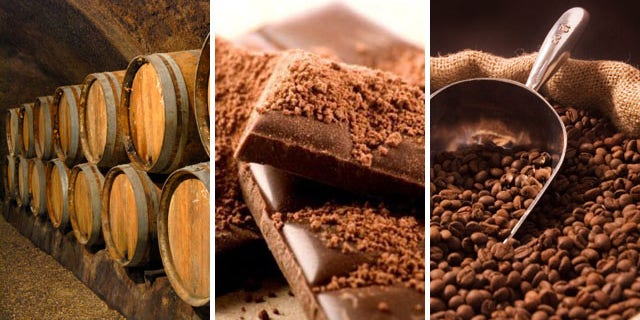 The only bottle of wine that ever lasted for longer than a few weeks in my house was a bottle I brought back with me from a friend's wedding in South Africa — its contents, and of course the memories that went with it, just seemed too special to drink on any Wednesday night alongside takeout. But when I did finally open it, all of the fantastic flavors and feelings from my trip came rushing back. I almost felt like the bottle of wine satiated my need to go back and do the trip all over again.
That's what food souvenirs do so much better than, say, key chains and T-shirts — they bring back all the sights, sounds, and flavors from time spent in another land. Who wouldn't want to relive that week spent strolling the hills of Tuscany or playing on the sandy beaches of Costa Rica?
But some foodstuffs travel better than others, and not just because some are restricted by the T.S.A. Items like Italian cheese, Spanish saffron, and local chocolates from France or Belize make perfect souvenirs that reward the buyer with the taste and smell of a place long after they're back home.
The best rule of thumb when choosing a souvenir, aside from making sure it's not prohibited in your country of residence, is finding something that's really tied to a place. One of my personal favorites is a small jar of Il Profumo del Chianti from Dario Cecchini's eccentric butcher shop in Chianti, Italy. He combined the best Sicilian sea salt he could find with what he calls "the essence of Tuscany" so that its smell and taste will sweep anyone instantly back to Italy.
In that same vein, coffee grounds from Costa Rica have such a strong scent and sense of place that they'll awaken memories of a tropical getaway every morning. Even better, find something that reminds you of all the exotic and adventurous things you tried while abroad and that your friends and family might want to try so they can get a taste of your holiday, too. No one likes your vacation pictures as much as you do, but open up a jar of that kaya you brought home from Singapore or the dulce de leche straight from Mexico and you'll all be reminiscing in no time.
Wine
Bringing back a bottle of wine takes just a bit of planning ahead, since there are steps to take to make sure it arrives home in one piece. Bring a BottleWise wine carrier to stuff that gorgeous South African white or deep Italian red safely into your suitcase. (Of course, wine has to go in checked luggage.) Try bringing back a bottle that isn't easily found at home and open it on a special occasion.
Chocolates
Foreign and exotic chocolates are readily available in tons of shops across the country, but buying them straight from the source can make that dark, bittersweet chocolate extra special. Chocolate makers like Mast Brothers Chocolate, from Brooklyn, N.Y.; Valhrona, just outside of Lyon in France; and Cotton Tree Chocolate in Belize all do a fantastic job of being both delicious and hyper-local products.
Il Profumo del Chianti
Dario Cecchini is the famous Dante-quoting butcher whose macelleria (butcher shop) is a destination in itself, on a quiet side street in Chianti. One of the best products to bring home from the region is his "Essence of Chianti," which is a mixture of Sicilian sea salt and aromatic herbs from Tuscany like sage, lavender, rosemary, thyme, fennel, and juniper. Just smelling it will conjure up images of those rolling Italian hills.
Spices
Hunting down exotic spices in your hometown can be a thrill all its own, but imagine the joy of cooking a Moroccan recipe with ras el hanout brought home from markets in Marrakech, adding real Spanish saffron to that paella, or attempting a mole sauce with spices from Oaxaca. Spices are easy to carry and can be bought in all sizes (even carry-on friendly).
Coffee
Many places are known for stellar local coffee production — Costa Rica, Hawaii, Colombia, Peru — so bringing back a bag of rich, aromatic coffee from there not only supports a local farmer, but connects every morning cup of joe to that trip and that place. Take a tour of a coffee plantation, learn about its roots and production, and then bring some back to let the holiday linger a little longer.
Click here for more from the Daily Meal.
More from The Daily Meal:
9 Most Inspiring Travel Movies
9 Movie Theaters Serving Gourmet Eats