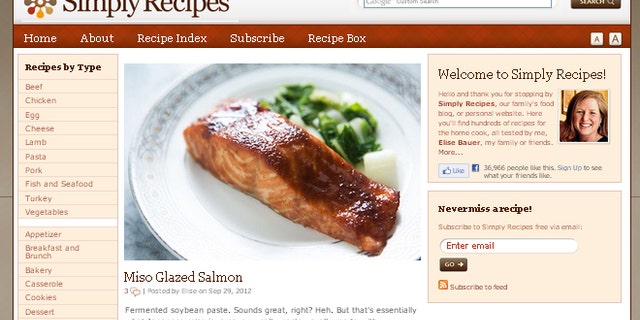 The world of food writing has been shaped and influenced dramatically by food bloggers. All it takes is a great idea, knowledge about a specific topic, and a publishing platform to join in the community. Right?
Though that may be true, there is a reason why some food blogs are so successful while so many others remain relevant for only a small handful of the author's friends and family members. So what makes a great food blog? We think a fantastic food blog needs engaging content about specific subject matter, stellar photos, and a hefty dose of in-the-know opinion. Blogs that made this list demonstrate all these things with great finesse.
To put together a list of the top 25 food blogs, we waded through similar "Best Of" lists that other sources, including Saveur and Babble, published in 2012 — the compiled data included more than 180 food blogs. Then, we averaged the number of each blog's unique visitors throughout the past year using Compete.com's monthly statistics. We also looked at updated stats for those blogs that made our past two annual lists and added them to the mix.
But simply taking annual traffic into account doesn't necessarily provide an accurate depiction of the success and prestige of a given blog. So with that in mind, we looked at each blog's number of Facebook fans, Twitter followers, and Pinterest followers.
To arrive at the final 25, we factored in the number of average unique visitors (this accounted for 50 percent of each blog's score) and the data from the three social media components (which accounted for the remaining 50 percent). The blogs with the highest total scores made the cut.
The top 10 blogs remained pretty much the same as in 2011, with Simply Recipes taking the number one spot yet again (for the third year running.) However, the rest of the order changed significantly. Serious Eats moved down three spots to number five, The Pioneer Woman jumped up to the number two spot, and Cake Wrecks moved up from number nine to number four.
New additions in 2012 include Picky Palate, dental hygienist-turned-mom blogger Jenny Flake's guide for parents of gastronomically challenging children (and adults, too, for that matter). Another acclaimed blog among the food-focused, A Year of Slow Cooking, made this year's list as well. And Christy Jordan, the Southern charmer behind Southern Plate found her way into the mix as well.

Also new this year, we've given out six superlative awards to outstanding blogs in various categories: Best Photography, Best Breaking News, Best Local Coverage, Best Recipes, Fastest Growing, Most Likely to Get a Book Deal and Longest Running.
The Daily Meal's 25 Top Food Blogs of 2012
25. Tastespotting
24. Rasa Malaysia
23. Pinch My Salt
22. Annie's Eats
21. Mommy's Kitchen
20. Year of Slow Cooking
19. Joy the Baker
18. Gluten-Free Goddess
17. Our Best Bites
16. Southern Plate
15. Two Peas and Their Pod
14. Eater
13. Steamy Kitchen
12. Picky Palate
11. David Lebovitz
10. Recipe Girl
9. Bakerella
8. Smitten Kitchen
7. 101 Cookbooks
6. The Kitchn
5. Serious Eats
4. Cake Wrecks
3. Skinnytaste
2. The Pioneer Woman
1. Simply Recipes
Here is more information about the top 13:
Steamy Kitchen
Jaden Hair, professional recipe developer, food columnist, and food photographer, runs the show at Steamy Kitchen. Dishing out "fast, fresh, and simple" recipes, the blog has become a favorite of busy home cooks.
Compete.com average monthly uniques: 147,606
Facebook Fans: 26,957
Twitter Followers: 120,774
Pinterest Followers: 2,899
Picky Palate
Started by Jenny Flake in 2007 after she retired from her job as a dental hygienist to spend more time at home with her sons, Picky Palate is full of recipes designed to appeal to picky eaters of all ages. The dishes that appear on the blog tend to be family-friendly and are interspersed with giveaways and the occasional product review. Stay tuned for the first Picky Palate Cookbook, set to debut later this fall.
Compete.com average monthly uniques: 107,872
Facebook Fans: 34,191
Twitter Followers: 13,562
Pinterest Followers: 22,972
David Lebovitz
Acclaimed former professional pastry chef David Lebovitz has a food blog that's chock-full of recipes, reviews, and all things Paris. With seven cookbooks under his belt, Lebovitz uses his blog as a place to share musings on his travels and newly created recipes.
Compete.com average monthly uniques: 119,593
Facebook Fans: 33,295
Twitter Followers: 128,145
Pinterest Followers: 5,912
Recipe Girl
Lori Lange left her post as an elementary school teacher in 2005 to start Recipe Girl. The blog now includes more than 2,500 recipes (mostly developed by Lange, though she occasionally posts curated submissions from users). Lange served alongside Paula Deen as a judge of the Real Women of Philadelphia Cream Cheese Cook-Off in 2010 and is working on publishing the first Recipe Girl Cookbook (slated to debut in spring 2013).
Compete.com average monthly uniques: 159,031
Facebook Fans: 18,745
Twitter Followers: 25,450
Pinterest Followers: 24,629
Bakerella
Founder Angie Dudley was inspired to start baking and blogging after taking a cake-decorating class. Bakerella focuses on "fun and easy baking," featuring recipes, decorating tips, the occasional giveaway, and lots and lots of dessert.
Compete.com average monthly uniques: 137,066
Facebook Fans: 109,746
Twitter Followers: 52,168
Pinterest Followers: 6,482
Smitten Kitchen
Moving down three spots on this years list is Deb Perelman's Smitten Kitchen. This blog has it all beautiful food photography, contemporary twists on classic comfort food, and cooking technique tutorials. Perelman's recipes are inspired by her quaint New York City kitchen.
Compete.com average monthly uniques: 296,486
Facebook Fans: 90,044
Twitter Followers: 32,601
Pinterest Followers: 4,051
101 Cookbooks
Since 2003, Heidi Swanson has written about her meals, travels, and interests in her blog 101 Cookbooks. Swanson's recipes — taken from her personal cookbook collection, friends, and family or created by Swanson herself — focus on utilizing natural, whole foods and ingredients. While a large portion of the site's recipes are for savory vegetarian dishes, Swanson occasionally features desserts as well.
Compete.com average monthly uniques: 262,770
Facebook Fans: 100,222
Twitter Followers: 145,661
Pinterest Followers: 22,149
The Kitchn
The Kitchn is the food-focused arm of the home improvement site Apartment Therapy. The Kitchn believes that, "simplicity and luxury are not mutually exclusive," and provides its readers with simple tips, how-tos, and recipes. Sara Kate Gillingham-Ryan is the founding editor of this blog, however, Faith Durand (pictured) manages The Kitchn on a daily basis.
Compete.com average monthly uniques: 634,492
Facebook Fans: 34,995
Twitter Followers: 34,650
Pinterest Followers: 12,500
Serious Eats
Serious Eats combines original and user-generated content to create a blog focused on food news, recipes, tips, and techniques. Founder Ed Levine expanded coverage of Serious Eats beyond New York City to Chicago this year and plans to move into more cities in the near future.
Compete.com average monthly uniques: 580,510
Facebook Fans: 158.549
Twitter Followers: 157,682
Pinterest Followers: 46,394
Cake Wrecks
Cake Wrecks documents the most outrageous, silliest, and creative cakes out there. Users submit snapshots of the cake wrecks they come across and the best are hand-picked by founder Jen Yates and published. Interestingly, this blog climbed up the list this year, from number nine last year to number four this year. Perhaps the release of Yates' second Cake Wrecks book made the difference.
Compete.com average monthly uniques: 74,343
Facebook Fans: 158,459
Twitter Followers: 1,233,189
Pinterest Followers: N/A
Skinnytaste
Skinnytaste features recipes developed by author and founder Gina Homolka. Skinnytaste's recipes are "healthy dishes that don't sacrifice any of the flavor" of their full-fat counterparts.
Compete.com average monthly uniques: 366,346
Facebook Fans: 126,414
Twitter Followers: 17,153
Pinterest Followers: 165,213
The Pioneer Woman
Pioneer Woman Ree Drummond documents her life as a "domestic country wife," with photos and recipes that she whips up for her husband and four young cowpokes. Last year, Drummond went from blogger to television host, bringing her "cowboy-friendly" dishes to Food Network.
Compete.com average monthly uniques: 671.602
Facebook Fans: 34,918
Twitter Followers: 328,637
Pinterest Followers: 89,177
Simply Recipes
A virtual recipe box of founder Elise Bauer's favorite homespun dishes, Simply Recipes features her tried-and-true recipes, along with those crafted by family and friends. Bauer started the blog in 2003 as a way to document the recipes that she grew up with and those that she developed. Simply Recipes claims the top spot on our list for the third year running.
Compete.com average monthly uniques: 2,559,222
Facebook Fans: 34,918
Twitter Followers: 79,894
Pinterest Followers: 140
BEST RECIPES: Smitten Kitchen
With an archive full of thoughtful yet accessible recipes and a vast array of tutorials, Smitten Kitchen is the ultimate haven for home cooks. The vibrant photos engage readers and make it easy to envision what the final result of the dish should look like.
BEST PHOTOGRAPHY: Bakerella
Angie Dudley's stellar baking blog Bakerella wins the award for outstanding photography because her images are always clean and sharp and the food is always expertly styled. She tends to publish step-by-step recipes with accompanying photos to make the process as easy as possible for readers, which makes the posts even more visually appealing.
BEST BREAKING NEWS: Eater
When it comes to local coverage of the nation's most prominent food cities, Eater has its finger on the pulse of the action at all times. The dedicated network of writers and contributors who are on the ground reporting on the latest happenings make it easy to rely on Eater for immediate coverage.
MOST LIKELY TO GET A BOOK DEAL: Pinch My Salt
Between this blog's engaging and down-to-earth recipes and Nicole Hamaker's drool-worthy photos, it's incredible that Pinch My Salt has not already earned a cookbook deal. We bet that by the time next year's list rolls around that will no longer be the case.
LONGEST RUNNING: David Lebovitz
After working behind the burner for 13 years, David Lebovitz left the kitchen in 1999 to focus on his writing. That same year he launched his website and released his first book, Room for Dessert. The rest is history.
FASTEST GROWING: Simply Recipes
Clocking an average of 2.5 million uniques per month this past year (by comparison, The Pioneer Woman in the number two spot garnered less than half of that per month), Simply Recipes has crushed the competition to top our list three years in a row.

Learn more about the top 25 food blogs here
More from The Daily Meal

35 Best Pizzas in America

52 Best Colleges for Food in America

Best Cheesesteaks Outside of Philly

20 Instagram Photos That Are Actually Good