Top 10 romantic restaurants in the U.S.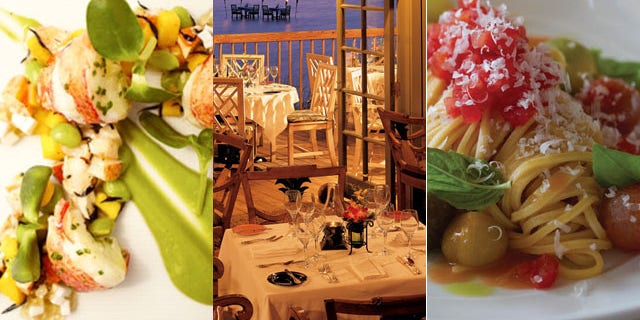 Cooking for your lover can be very romantic, but you probably prefer to spend quality time with your partner instead of the stove. When you want someone else to be in the kitchen, you need a romantic restaurant that offers just the right ambiance, service and food.
We've selected these ideal spots for an unforgettable meal, be it a special occasion like an anniversary, Valentine's Day, or just a simple way to say, "I love you." But don't forget to make a reservation first.
We hope to see you soon at a table for two at one of these top 10 romantic restaurants in the United States.
Andrea
The Resort at Pelican Hill
22701 Pelican Hill Rd. S.
Newport Coast, CA 92657
949-467-6800
Andrea is the signature restaurant at the luxe The Resort at Pelican Hill. And while everything here is top-of-the-line, Andrea still has a casual feel, with golden lighting, cozy banquettes and an outdoor terrace with soaring Pacific Ocean views. Start with a house-made cocktail or a glass of wine from the long by-the-glass list. Then, order up a palate-opening appetizer like a seasonal soup, scallops with cauliflower purée and crispy pancetta or a salad of burrata cheese, Tuscan kale, porchetta crisp and tomato confit. Next, you can order a Napoli-style pizza, but we suggest the homemade pasta, like the hand-rolled spaghetti with basil and roasted cherry tomato sauce or the ravioli filled with ricotta and spinach and finished with a delicate butter and sage sauce. Mains are just as flavorful, yet light and hearty all at the same time. Options might range from herb-crusted lamb loin with Swiss chard flan and caramelized cipollini onions to roasted Wagyu tenderloin with cannellini beans, vegetables and Barolo sauce. At meal's end, go for the artisanal cheese plate with fine accoutrements or the daily hand-churned ice creams and gelatos. See more of the Top 10 romantic restaurants in Orange County, California.
Auberge du Soleil
180 Rutherford Hill Rd.
Rutherford, CA 94573
707-967-3111
A noted location for romantic dining, Auberge du Soleil also enjoys a brisk lunch trade, despite its comparatively remote location. Nestled high in the eastern wall of Napa Valley, it boasts a deck affording views (on a clear day) all the way to the Mayacamas Range, the natural divide between Sonoma and Napa counties. It's a perfect backdrop for an afternoon respite. Dinner openers may include poached Maine lobster with brown butter, orange, apple and hibiscus, or hiramasa crudo, slow-cooked egg, soba and Hong Kong vinaigrette. Main courses might range from Prime beef pavé with crispy polenta, wild mushrooms, Swiss chard and caramelized shallots to spiced local lamb with verjus poached quince, chestnuts and red wine coffee sauce. The affable waitstaff is attentive but not overbearing, always at the ready but respectful of diners' privacy. Moreover, they are well-versed in both the cuisine from chef Robert Curry and the globetrotting wine list (local wines well-represented too, of course) and know how to pair these elements in ways that showcase both the foods and the wines at their finest. Their recommendations will not disappoint, nor will the evening ambience, which is bolstered by the western setting sun that bathes the valley in amber light.
Babette's Cafe
573 N. Highland Ave. NE
Atlanta, GA 30307
404-523-9121
Inspired by the film "Babette's Feast," owner Marla Adams has created a cozy, country French restaurant with high ceilings and hardwood floors. It's a top spot for romantic dining and warmly receives couples eager to enjoy a special meal. In cold weather, the cassoulet is a must. Come spring, a navarin of lamb takes its place. For moments when a lighter appetite dictates smaller portions, sample the small plates, a category enhanced by a good round-up of soups and salads. The half pound of mussels with strawberries and serrano peppers may seem odd, but the flavors create a balance that works. Brunch at Babette's remains a satisfying affair, especially the eggs Benedict on beef tenderloin with sun-dried tomato hollandaise. Dessert portions are huge and house-made ice creams are not to be missed. Crème brûlée, of course, is the classic version, with no off-the-wall flavors or variations. The wine list isn't extensive but it's very well selected, with an eye to price and value.
For more Atlanta, check out FoxNews.com's vacation guide >>
Canlis
2576 Aurora Ave. N.
Seattle, WA 98109
206-283-3313
Timeless elegance and accomplished cooking have made this spot Seattle's special occasion restaurant for more than 60 years. Set on a slope above Lake Union with classic lines crossing Frank Lloyd Wright with Pacific Northwest design, the building opens to refined rooms that are welcoming and gracious. Being family-owned for three generations, its professional service and world-class wine cellar, as well as its cuisine, set Canlis apart. Five sommeliers, who are gracious whether you order a $30 or $3,000 bottle of wine, help you choose the right selection from more than 18,000 bottles. A menu with both traditional favorites and contemporary seasonal fare makes deciding between truffle fries and butter-poached lobster or a well prepared steak and a twice-baked potato a true challenge. If you like decisions made for you, the prix-fixe chef's tasting menu ($115) shows off the talents of executive chef Jason Franey. Canlis' signature dishes are equally impressive, especially the Canlis salad, Washington-raised Kobe-style beef, and the vermouth-bathed Peter Canlis prawns with garlic, red chilies and lime. Desserts include a Grand Marnier soufflé (order in advance) or a luscious molten chocolate cake. Extend your evening by enjoying brandy in the bar while listening to jazz or show tunes played on the house Steinway. No matter when you leave, your car will magically be waiting.
Congress
The Austonian
200 Congress Ave.
Austin, TX 78701
512-827-2760
Chef David Bull, formerly of Driskill Grill and most recently Bolla in Dallas, returned to Austin to orchestrate the opening of an ambitious triple-establishment affair. The crown sophisticate is Congress, replete with crystal chandeliers and white lounge chairs that invite a lengthy stay. In a city proud of its casual image, Congress ups the ante quite a bit. Nonetheless, Bull knows this town, and pipes in classic rock music lest the proceedings go too black-tie. Choose from a three-course menu or a fixed seven-course tasting menu. Some creations are redux classics, such as the beef tartare with fried oysters, kimchi, steamed rice and black bean paste, or white lobster bisque, decanted tableside. Less conventional, the tête de cochon reinvents head cheese sans aspic in favor of a wickedly good whiskey-bacon marmalade. Innovative desserts have included sweet potato beignets with salted butter ice cream, pecan brittle and toasted meringue. The 500-plus-bottle wine list might prove overwhelming if not for sommelier June Rodil, who meets the challenge of pairing every bold course Bull offers. While one could easily spend four digits on a couple bottles of wine, Rodil can also recommend some values under $50.
For more Austin, click over to FoxNews.com's vacation guide >>
Courtright's
8989 Archer Ave.
Willow Springs, IL 60480
708-839-8000
In the southwest suburbs of Chicago --- or anywhere, for that matter --- Courtright's is a fine-dining establishment worth a visit. The seasonally changing menu does a pleasant ramble through a cuisine toeing a line between sensibly creative contemporary and regional American, as interpreted by France-born executive chef Jerome Bacle. The range is extensive, as in duck rillette with a bacon scone and seasonal chutney or escargots cassoulet with prosciutto, shallots and fermented black garlic. Dishes we've enjoyed include Swan Creek duck breast with roasted quince compote, caramelized maple rutabaga, cranberries and cashews as well as venison loin with honey-glazed apples, chestnuts, cinnamon-scented butternut mousseline and huckleberry sauce. The window tables look out onto a forest preserve, so snag one if you can and begin by perusing the topnotch wine list. Note that seasonal hours may be in effect January through March, as in Monday and Tuesday closures.
The Dining Room at Little Palm Island
Little Palm Island Resort & Spa
28500 Overseas Hwy
Little Torch Key, FL 33042
305-872-2551
A dreamy, romantic locale (under 16 not permitted), the restaurant at the secluded Little Palm Island Resort & Spa defines a class of its own. The remote natural surroundings (royal palms, wild Key deer, lush tropical foliage and orchids) are a breathtaking backdrop for opulent outdoor dining. Located three miles offshore and accessible only by boat (reservations required), the dining room offers regional cuisine including exotic Cuban elements by Havana-born chef Luis Pous. Explore the far reaches of good taste in starters like beef tartare with fried quail egg, or coconut lobster bisque. Linger with the setting sun and the rising moon over the ocean while enjoying main courses like yellowtail snapper with vegetable escabeche, or coriander-crusted elk with dried fruit compote. Wines and cocktails are notable as one would expect, and the service, while Island-style friendly (and paced), is attentive. Ask to dine at a private table perched on the edge of the beach and, if possible, plan to spend the night.
Eiffel Tower
Paris Las Vegas
3655 Las Vegas Blvd. S.
Las Vegas, NV 89109
702-948-6937
If Las Vegas were the house, this restaurant would be the best seat in it, for this fine-dining perch in Paris's Eiffel Tower has an unobstructed view of the Strip, including Bellagio's dancing fountains across the street. Burgundy velour banquettes and a Belle Époque décor set a plush stage for the contemporary French offerings. Among imaginative appetizers, we like the cold foie gras torchon with duck prosciutto and a fig compote, offered for lunch and dinner. Luncheon sandwiches include steak with Roquefort cheese and a red onion compote. A salad favorite is created with lobster, shrimp and crab. The dégustation menu dreamed up by the chef each evening is a popular choice, featuring menu items such as warm lobster salad with fingerling potatoes and toasted caraway seeds; butternut squash soup with duck confit; sautéed sea bass; venison chop; Eiffel Tower desserts or a soufflé; and petits four. Wine can be paired with the tasting menu for a complete experience. Among à la carte dinner entrées, try the slow-roasted filet of Atlantic salmon with Pinot Noir sauce. Prices are high, but dishes such as the individual Eiffel Tower beef Wellington with sautéed snap peas are worth it. The wine list consists of more than 900 labels. See more of the Top 10 romantic restaurants in Las Vegas.
Gilt
New York Palace
455 Madison Ave.
New York, NY 10022
212-891-8100
A feast for the eyes as much as the palate, Gilt is set in the nineteenth-century Villard Mansion (attached to the New York Palace hotel). It oozes the decadence of a bygone era with a shot of contemporary flair, making it ideal for a romantic rendezvous or special occasion. In the bar room, ornate neo-classical walls are bathed in purple hues, lit from behind the banquettes. The dark paneled dining room, which seats 45 or so guests, is more on the quiet side. Diners can choose between a three-course, five-course and grand seven-course meal, each stage fully explained by the waitstaff. The menu, overseen by the talented Justin Bogle, boasts seasonal ingredients and changes accordingly. An amuse-bouche of artichoke ice cream with Parmesan and Espelette (presented so that it resembles --- dare we say it --- a Ritz cracker sandwich) kicks off the meal in an inventive and unexpected way. Scottish langoustines and Iberico ham put a luxe spin on 'surf and turf,' while the blanquette de veau is artfully adorned with beet root, chard and toasted grains. Pastry chef David Carmichael's creations might include a take on 'Rocky Road' with chocolate biscuit fudge and toasted marshmallows. Each dish is expertly paired with wine by the user-friendly and personable wine director Patrick Cappiello, who supervises about 3,200 bottles. Meanwhile, general manager Stephane Lacroix orchestrates the attentive service. See more of the Top 10 romantic restaurants in New York.
Martinique Bistro
5908 Magazine St.
New Orleans, LA 70115
504-891-8495
One of the great "finds" in New Orleans, Martinique reflects the legacy of its founding chef-owner, Hubert Sandot, of French and Caribbean heritage, who established the restaurant in 1994. Current owner Cristiano Raffignone is of Italian descent but was reared in Paris. Chef Eric LaBouchere works in a more traditional French and New American style with Caribbean accents. The kitchen is adept with fish and seafood preparations, best exemplified by the seared sea scallops or pan-roasted Florida grouper. Specific preparations vary from season to season, but you'll likely find classics such as escargots and duck confit. The décor is defined by bright paint, Italian wall sconces and well-worn wood. Martinique's wine list covers all necessary bases, with many by-the-glass offerings. Oenophiles will tip their hat to the restaurant for its inclusion of Dominus, although more moderately priced selections also are offered. Desserts can be as light as traditional profiteroles, or as heavy as baked Alaska.

MORE ON GAYOT.com

Top 10 Romantic Restaurants Near You
Best Valentine's Day Restaurants Near You
Top 10 Romantic Hotels Around the World