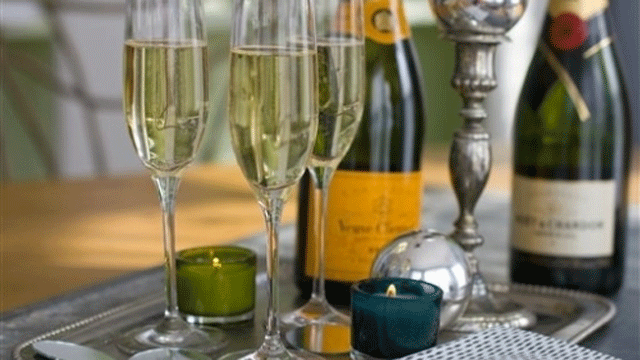 You can still enjoy Champagne without spending hundreds of dollars. GAYOT.com has compiled a list of ten inexpensive true Champagnes, all available for $40 or less. These reasonably priced French Champagnes will liven up a party without breaking your budget. They are all rated on a 20-point scale that measures quality; price is not a factor. The more you learn about Champagne, the better choices you'll make.
Champagne Nicolas Feuillatte Brut Blue Label
Rating: 14.5/20
$36
Composed of 40 per cent Pinot Noir, 40 per cent Pinot Meunier and 20 per cent Chardonnay, Nicolas Feuillatte's Brut Blue Label is well-balanced and refreshing. On the nose, it offers apple, pear and peach aromas with spicy and floral notes. In the mouth, it reveals more concentrated fruit flavors leading to a smooth finish.
Champagne Deutz Brut Classic
Rating: 14.5/20
$40
This well-rounded Champagne displays floral notes on the nose followed by aromas of toast and ripe fruits. The silky texture transitions into an intensely fruity finish.
Champagne Taittinger Brut La Française
Rating: 14/20
$40
This rich Champagne with hints of toast, yellow fruit and coconut milk offers round flavors of peach and honey that lead to a long, dry finish.
Champagne G.H. Mumm Cordon Rouge
Rating: 13.5/20
$35
Notes of peaches, pears and green apple are followed by the freshness of candied lemons and apricot on the palate.
Champagne Jacquart Brut Mosaïque
Rating: 13.5/20
$40
A fresh bouquet with grape, pear and notes of bread crust leads into fresh and fruity flavors; pair with seafood or soft cheeses.
Champagne Ayala Brut Majeur
Rating: 13.5/20
$39
A pale golden color, the Brut Majeur is aromatic on the nose with almonds and green berries. The green fruit flavors are well balanced and give way to a long, rich finish.
Champagne De Venoge Cordon Bleu Brut Sélect
Rating: 14/20
$32
Aromas of flowers evolve into buttery scents; enjoy as an aperitif or with simple first courses.
Champagne Möet & Chandon Impérial
Rating: 14/20
$40
Straw-yellow in color, this affordable sparkler offers a seductive palate with rich flavors, followed by a fresh crispness.
Champagne Lanson Brut Black Label
Rating: 14/20
$32
Founded in 1760, Lanson is now the fourth largest Champagne house in the world. Their non-vintage Brut Black Label offers a fruity and floral bouquet with hints of toast. In the mouth, it reveals crisp lemon and ripe berry flavors.

Champagne Bonnaire Brut Blanc de Blancs
Rating: 13/20
$30
Powerful on the nose with floral scents, this Champagne has strong flavors of apple which lead to a crisp, long finish.
MORE ON GAYOT.com: